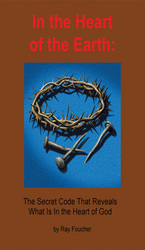 The result of this investigation includes the conclusion that the resurrection was not on a Sunday morning at all but, rather on a Friday evening just briefly after the burial
Greenwood, British Columbia (Vocus) November 18, 2010
In his new book, In the Heart of the Earth: The Secret Code That Reveals What Is In the Heart of God (published by AuthorHouse), author Ray Foucher gives an in-depth analysis of biblical text and decodes the "hidden gems" within biblical scripture.
With In the Heart of the Earth, Foucher addresses the resurrection of Jesus Christ in length, allowing readers to discover the events leading up to the resurrection and its implications on modern-day Christians. Other issues discussed include the realities of free will and the sacredness of Sunday. In the process, Foucher discovers many of the misguided conclusions that populate religion and pop culture.
"The result of this investigation includes the conclusion that the resurrection was not on a Sunday morning at all but, rather on a Friday evening just briefly after the burial," Foucher notes. "This and other conclusions are all reached by careful study and comparison of key words. The investigation is done in a step-by-step manner, the logic is carefully laid out and the commentary is easy to read and follow."
An excerpt from the introduction:
God is love. This is the most important truth about God. Why then have so many become confused? God has been so misrepresented and misunderstood. He is no longer seen or appreciated as the God of love He really is. He can be understood to be a loving Father only as He is perceived as acting in a loving way toward others. This revelation has been given in the life of God's only begotten Son. Jesus, while He walked among men, displayed a character of absolute, selfless love for others and He claimed:
"… he that hath seen me hath seen the Father …" (John 14:9)
Referring to biblical text as the final authority, Foucher details the timing of the resurrection and provides insights into the meaning of the Sign of Jonah.
About the Author
Ray Foucher has a keen interest in understanding biblical topics and a desire to present them in interesting ways. He currently lives in British Columbia, where he enjoys writing and gardening. He has a degree in biology and has published a number of scientific articles. He also works in the area of health research and is web manager for natural-pain-relief-guide.com as well as his spiritual site – Jesus-Resurrection.info.
AuthorHouse is a premier book publisher for emerging, self-published authors. For more information, please visit authorhouse.com.
###