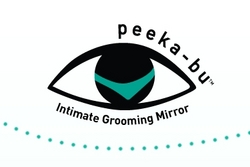 "Peeka-Bu will become the symbol for the modern intimate grooming movement: fashion, health, beauty and body awareness all in one."
Los Angeles, CA (PRWEB) December 22, 2009
The Peeka-Bu brand is on a mission to become a recognized leader within the personal health and beauty product industry – providing the world with innovative grooming products and personal hygiene solutions for women and men.
The new Peeka-Bu affiliate program is now launched and ready to accept affiliate applications. Peeka-Bu is a company that affiliates will love to be associated with for a number of reasons, including:

Peeka-Bu utilizes many eco-friendly practices
Significantly reduced packaging material for personal sales
Manufactured with "EcoPure" – a biodegradable additive which helps to safely degrade the product back into the earth.
Packaged with recycled & recyclable materials.
Peeka-Bu is a Los Angeles-based family-owned and operated business.
Peeka-Bu plans on donating a portion of its proceeds to local charities
Peeka-Bu makes a great affiliate marketing offer. Here are some of the reasons why:
Product has been recognized in Oprah Magazine, the Today Show and Redbook
As an aid to grooming for both men and women, households will want to own more than one- they're great not only for pubic hair grooming, but for manscaping and shaving in the shower
Affiliates will receive custom marketing creatives based on demographics and their primary methods of internet marketing
Affiliates have the opportunity to make a few hundred dollars /mo. to a few thousand dollars/mo. depending on their level of commitment.
New fairly un-tapped niche… many opportunities to do really well in a non-competitive vertical when it comes to affiliate marketing status quo
From Sarah Nehamen, creator of the Peeka-Bu grooming mirror:
"Peeka-Bu is everyone's mirror. The unique suction system and flexible arm allows you to see places you rarely get to see, in a whole new way. Peeka-Bu lets you break taboos without breaking your neck."
"Whether it's time to tame the bush, get a clean face shave in the shower or just see yourself up close and personal, Peeka-Bu is your mirror."
###