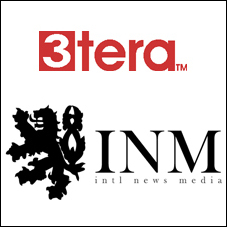 Today's Web 2.0 companies and Software-as-a-Service providers want to focus on developing their application services, and the capital and resources required to own and operate data centers no longer adds value for their users
Irvine and Aliso Viejo, CA (PRWEB) October 11, 2006
International News Media (INM) (http://www.intlnewsmedia.net), an Internet marketing and media content delivery services company and 3Tera, Inc. (http://www.3tera.com), the innovator of grid and utility computing solutions for online services, today announced INM is leveraging 3Tera's new AppLogic grid operating system to easily and cost-effectively deliver, manage, and scale its existing media services.
AppLogic enables Web applications, including the infrastructure required to deliver them, to become completely portable, easily scalable, and managed remotely on grids of commodity servers using only a browser. By using AppLogic, INM now obviates the cost and complexity of owning and operating hardware infrastructure, and can capitalize on a utility service model to rapidly deliver and manage Web applications in a highly available, scalable, and virtualized environment.
"As an Internet-based services company, we strive to ensure we're utilizing the latest technologies for manageability, high availability, and scalability to stay competitive and meet our rapidly growing customer demand," said Gabriel Kent, CTO, Intl News Media. "The AppLogic platform enables INM to cut application development time, lower server and administration costs, improve server reliability via it's high-availability architecture, as well as improve the performance and growth potential of the INM network. In the end, our customers are the true beneficiaries of our system, which is always our primary goal."
INM's users gain exposure for their products or services through the company's sophisticated media channel which is designed to reach thousands of news outlets, consumers, and search engine users. To stay competitive, the company requires 100 percent uptime and the ability to deploy and manage its Web applications and services quickly and easily. Using AppLogic, an entire N-tier application or service can be packaged into a logical entity and managed as a single system. This approach also makes it very easy to assemble, deploy, monitor, control, and troubleshoot applications visually in a browser. Today, INM uses AppLogic to virtualize all of its public-facing properties and is in line to virtualize its entire platform by 2007.
"Today's Web 2.0 companies and Software-as-a-Service providers want to focus on developing their application services, and the capital and resources required to own and operate data centers no longer adds value for their users," said Bert Armijo, vice president, Marketing, 3Tera, Inc. "3Tera's AppLogic system packages the software and hardware infrastructure into a single portable entity, effectively removing the infrastructure barriers associated with bringing Internet-scale service to market. Now, using the same system, INM can speed new releases to market while being able to cost-effectively scale its applications as user demand grows, and pay only for the resources these applications require to run."
About INM Media Hub Products and Services
INM offers a complete network of reliable, efficient, and cost-effective Internet Marketing services that fully utilizes INM's Internet distribution platform. Products and services include INM's IPR Wire, a press release service; DriveROI, a PPC management solution; I BLOG IT!, an open source business blogging platform integrated with its Internet Marketing services and with other popular Social Web services; article syndication and management services; and a variety of supporting Internet Marketing services and tools.
About 3Tera's AppLogic Grid Operating System
AppLogic is the first and only grid operating system designed to run and scale existing transactional Web applications. AppLogic is based on scalable grid architecture, advanced virtualization technologies and 3Tera's ground-breaking disposable infrastructure. The system converts existing commodity servers into scalable shared grids that are easy to manage. Disposable infrastructure packages applications and the infrastructure required to run them into self-contained and portable entities. As a result, AppLogic enables users to easily deploy existing Web applications on a grid, instantiate and scale them without modification, and do so without requiring a SAN or other shared storage. By completely separating software from the hardware infrastructure traditionally needed to run it, AppLogic enables users to take advantage of a true utility services model.
About 3Tera, Inc.
3Tera, Inc. is the innovator of grid and utility computing solutions that simplify the deployment, operation and scaling of online services. The company's breakthrough AppLogic grid operating system allows hosting providers to offer true utility computing that enables anyone with a browser and basic IT skills to operate dozens of servers and hundreds of online applications, without owning and operating hardware infrastructure. 3Tera is a privately-held company headquartered in Aliso Viejo, California with R&D facilities in Silicon Valley, Israel and Eastern Europe. For more information about 3Tera and its solutions, please visit the company's Web site at http://www.3tera.com.
About International News Media
International News Media (INM) is the parent company of some of the most innovative and advanced digital marketing programs and online properties assembled under one umbrella. Together, or as stand alone solutions, the INM family provides online marketers with all of the tools needed to extend their Internet Marketing further than ever before. INM is a privately-held company headquartered in Irvine, California with facilities in Ontario, Canada. For more informaton, please visit the company's Web site at http://www.intlnewsmedia.net.
Intl News Media, the Intl News Media logo, IPR Wire, DriveROI, and I BLOG IT! are trademarks, or registered trademarks of International News Media. 3Tera, the 3Tera logo, and AppLogic are trademarks, or registered trademarks, of 3Tera, Inc. in the United States and other countries. Other marks belong to their respective owners.
(press release provided by: http://iprwire.com)
###