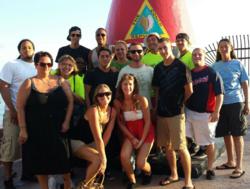 Key West, Florida (PRWEB) June 17, 2013
Into Action Treatment Center out of Boynton Beach, South Florida, visited the Florida Keys this weekend and celebrated with current clients and alumnus of the drug rehab center. They were celebrating their Alumni Recharge weekend and had a great time camping at Sugarloaf Key and being tourists in Key West for the weekend.
They chartered a bus from their Boynton Beach alcohol and drug treatment center location and headed down to the Florida Keys to celebrate recovery and relax in the Florida Keys. They camped at the KOA Campground located in Sugarloaf Key. Sugarloaf Key is a single island in the lower Florida Keys that forms a loop on the Atlantic Ocean side giving the illusion of separate islands. Although frequently referred to simply and with technical accuracy as "Sugarloaf Key", this island contains two distinct island communities, known as Lower Sugarloaf Key and Upper Sugarloaf Key.
In Key West, Into Action and their group got to enjoy the afternoon and evening as tourists. They even got to watch the sunset in Mallory Square, which is the location of the Sunset Celebration. The Sunset Celebration is considered one of the main tourist attractions of Key West. The Sunset Celebration involves hundreds of tourists who arrive each night to view the sunset. The celebration includes arts and crafts exhibitors, street performers and food carts. It begins two hours before sunset, every day of the year.
Into Action Treatment is a small 24 bed coed Florida drug rehab center located in Boynton Beach. Into Action is a very unique center, which focuses on long term recovery for addicts and alcoholics. Most treatment centers in the industry are 28 days, however Into Action is a minimum of 45 days, while most clients who complete the program end up staying over 90 days, even if their insurance money has run out. For more information on Into Action Treatment and how they can help those affected with addiction, visit their website at http://www.intoactiontreatment.com, or call their 24 hour hotline at 1-855-933-6732 for free addiction advice and treatment options.