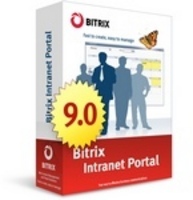 Our latest release carries a number of top-notch innovations and a perfectly balanced mix of features that offer customers a Swiss-army-knife solution with the industry leading "value-for-money" rate
Alexandria, VA (PRWEB) May 8, 2010
Bitrix, Inc. (bitrixsoft.com), a technology trendsetter in business communications solutions, announces the availability of Bitrix® Intranet Portal 9.0, the most ambitious release of the company's Enterprise 2.0 solution for effective collaboration, communication, social networking, workflow and knowledge management for small and medium-sized businesses. The avalanche of new features reflects the increasing demand for the Enterprise 2.0 environment to reach a new level of sustainable business operations and bridge organizations with their customers, partners and employees.
SMBs sorely need cost-effective solutions to create productive internal workspaces and solid communications with external parties. Unfortunately, the market offers either over-priced, over-featured enterprise-level suites or lightweight or single-purpose products covering a limited number of tasks. "Our latest release carries a number of top-notch innovations and a perfectly balanced mix of features that offer customers a Swiss-army-knife solution with the industry leading "value-for-money" rate," said Dmitry Valyanov, President of Bitrix, Inc.
Write, speak, watch
Bitrix Intranet Portal 9.0 now provides a full range of business-oriented communication opportunities. In the new version, the blogs & forums and instant messaging features are reinforced with video conferencing and e-mail processing.
Customers can create a number of virtual video meeting rooms according to their license terms, make online room reservations with real-time status display in the public calendar and initiate either an instant peer-to-peer video call or a click-away video conference for up to six participants. This feature is available both for internal and external communications and requires a simple browser plug-in.
Thanks to the integrated Send&Save™ technology, organizations can solve a major headache associated with the fact that email remains the main business communication tool. Correspondence is usually dispersed among user mailboxes without proper archiving and sharing, thus leaving no significant footprint after employee dismissal. The new feature duplicates email in the intranet, stores messages in dedicated discussions with shared user access rights and indexes it for the D.I.G. enterprise search engine.
The integrated SMTP server sorts incoming email to dedicated discussions in Bitrix Intranet Portal and delivers notifications about group announcements, replies and new topics back to user inboxes. This way, employees can leverage the workgroup collaboration even without logging into the intranet portal.
Security above all
Bitrix Intranet Portal 9.0 makes a huge step forward in security with the improvement of the integrated PRO+PRO™ security framework, which goes far beyond traditional intranet protection. Thanks to the new anti-virus module, the product prevents malicious code distribution to end users and provides both detection and disinfection capabilities for automatic purging of infected code. In combination with embedded backup and integrity control, the web anti-virus dramatically amplifies the overall product security, minimizes downtime, and ensures industry-leading business continuity and reputation protection.
The module performs real-time HTML code scanning, identifies and cuts suspicious iframe and javascript blocks, and informs the website administrator about the detected threat. It combines rule-based behavior blocking and signature-based anti-virus technologies to combat, with 90% efficiency, both known and unknown malware which other systems would simply pass along to site users.
Business process management
Confirming its status as a technological pioneer in Enterprise 2.0 business process management, Bitrix has added a number of important enhancements to this module. Bitrix Intranet Portal 9.0 allows for more effective business process design and monitoring by leveraging new collaborative and fundamental features.
Now, a process can be initiated with regards to a document or a routine activity, owners can modify the process at any stage of its implementation, users can receive assignments directly to their calendars and tasks as well as receive notifications via instant messenger or e-mail. The business processes visual constructor received new functions like issue escalation and decision-making timeout, while the product is now equipped with additional templates for typical activity like business trips and vacation request handling.
Equipped with an intuitive drag-and-drop interface and extreme ease of use, the module provides businesses an opportunity for significant improvement of intranet ROI by boosting employee productivity, internal interoperability, and user satisfaction.
Last but not least
Bitrix Intranet Portal 9.0 experienced several other enhancements which are spearheading the evolving Enterprise 2.0 market and driven by user demand. The product enables automatic visual representation of organization's structure with details received directly from Active Directory or entered manually. The user interface was endowed with extended tooltips when browsing employee profiles. The workgroups appearance has changed, offering more comprehensive control, monitoring, intuitive navigation and customization with full support of tags and tag-based search.
Bitrix Intranet Portal 9.0 supports the latest versions of the most popular browsers including Internet Explorer, Firefox, Chrome and Opera for PC and Mac. The product contains the capability of smart connecting of huge data storages to make them available for intranet users in a matter of seconds. The photo gallery module underwent a major revamp, allowing better image uploading, adjusting and presentation.
Customers also receive extended customization options to craft their solution according to certain business needs. Organizations can create their own private and public grids to present a unified display of data scattered among multiple sources and reflecting heterogeneous information stores like partner lists, knowledge bases, etc.
"Wrapped in a highly-customizable mashup-style user interface, Bitrix Intranet Portal 9.0 offers a very attractive employee workspace which makes adoption of this intranet solution fast and painless, as described by users themselves. As a result, businesses can easily capitalize on the social dimension of work and leverage profound employee involvement," said Dmitry Valyanov, President of Bitrix, Inc.
Pricing
Customers can purchase a 25-User Base Pack (starting from US$1799) and the necessary number of user licenses exceeding 25 (US$40 per user). Options for unlimited users and a special offer for Hosting Providers are also available.
Upgrade options
Users of previous versions of Bitrix Intranet Portal are entitled to a free upgrade to any edition of version 9.0 if they have purchased within the last 12 months or are subscribed. The upgrade is only one click away – it can be done in realtime and fully automatically using the SiteUpdate module.
Availability
Bitrix Intranet Portal 9.0 is available immediately. The product can be purchased from Bitrix partners or online.
Support
The price of Bitrix Intranet Portal 9.0 includes a one-year subscription for technical support and updates. Further yearly renewals can be purchased for 22% of the product price.
Additional Resources

About Bitrix, Inc.
Bitrix is a privately-owned company developing an advanced business communications platform to bridge SMBs with their customers (Internet), partners (Extranet) and employees (Intranet). Founded in 1998 and headquartered in Alexandria, VA, Bitrix now incorporates 70+ staff, 30,000+ customers and 4,000+ partners worldwide. The customer list includes Hyundai, Volkswagen, Panasonic, Gazprom, Xerox, PricewaterhouseCoopers, DPD, VTB, Samsung and Cosmopolitan. Localized into 13 languages, the company's products are distinguished for their pioneering technology, unique security features, extreme performance capacity and unmatched ease-of-use.
###