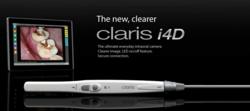 (PRWEB) November 25, 2012
Sota Imaging is offering November Special deal on high quality USA-made products. The special digital intraoral camera, Clarisi4D will be available for $2500 only instead of $3750.
Using digital accessories for internal treatments like dental or oral treatments are gaining ground day by day. Different organizations are introducing special offers to meet the increasing needs for these products. However, Mr. Amelia, owner of Sota Imaging, the online store for digital imaging products, comes with a special facility for customers. The digital Claris i4D camera will be available at discounted rate from the store this November. The original price of the device is $3750 but for this November, customers can purchase the sane device for $2500 only. He suggested the technically advanced camera can be used to take clear digital pictures while treating oral and dental issues in individual people.
During a press meet, the owner of the store announced the news. There he said a few words on the device also. In his opinion, "As we deal with advanced technology imaging devices we try to do deliver the products at budgeted rate always. For this November, we have selected the intraoral cameras, next year it will be something different."
The intraoral camera that is available from the November deal is made in USA. The camera makes use of the best technologies to give clear dental pictures. The CCD sensor inside the camera gives accurate images.
Mr. Alejandro, the head of the marketing department was present there during the interview. He commented on the service saying, "We want our customers to use best quality devices at the budgeted rate. Thus, we have decided to deliver the US made intraoral Cameras only for this November because US made means these will be great products and will do extraordinary jobs"
Mr. Chang often purchase digital devices and is well aware about the company's services. Hearing about the offer he says, "Not everybody can offer such advanced products at this amount. It once again proves their excellence"
The Claris i4D intraoral cameras are equipped with 2.0 USB cables that increase functionality of the device. The USB port also makes the device quite durable and keeps it active for long time.
About the Company: Sota Imaging is the trusted online store where different digital imaging devices are available. They offer different types of products like intraoral cameras, imaging software, digital x-ray sensors, etc. Their digital technology products have been used by organizations like IBM, NASA, etc. To know more about their service visit http://sotaimaging.com/our-products/claris-i4d-intraoral-camera.