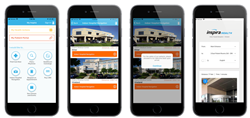 Intraprise Health's wayfinding app uses a unique combination of photos and step-by-step directions to help users find their way within hard-to-navigate indoor spaces. Clear, easy-to-follow directions lessen anxiety and frustration, empowering patients to find their way in an unfamiliar environment.
YARDLEY, Pa. (PRWEB) March 28, 2019
Inspira Health, among Southern New Jersey's leading healthcare providers, is tackling one of the most anxiety-provoking aspects of healthcare – patients being able to find their way through unfamiliar healthcare facilities at a time when they are focused on their own health or that of a loved one.
Inspira is solving this problem for their patients by partnering with digital health technologists, Intraprise Health, to install indoor navigation in Inspira's three hospital locations. Available as a free downloadable app, the wayfinding solution is available to all patients and visitors of Inspira Medical Centers Vineland and Elmer, and will be available for the brand new Inspira Medical Center Mullica Hill when it opens in November.
Intraprise Health's wayfinding technology uses a unique combination of photos and step-by-step directions to help patients and their families easily find their way within hard-to-navigate indoor spaces. The app gives clear, easy-to-follow directions that lessen anxiety and frustration, and empowers patients to focus on their health rather than finding their way in an unfamiliar environment.
Inspira Health, touting 1,100 physicians and other health care providers, and more than 150 access points, has been collaborating with Intraprise Health for the past three years to create a comprehensive, consumer-centered digital health strategy. Wayfinding is one of the latest innovations that Inspira has rolled out to engage and help patients.
"By collaborating with Intraprise Health, we are achieving a number of our goals," said Tom Pacek, chief information officer, Inspira Health. "The photo-based wayfinding technology is easy to use and makes accessing care easier and less stressful for patients and their loved ones. And we know that improving the patient experience can improve outcomes and build loyalty. The new wayfinding app is the latest way we are improving the patient experience."
Intraprise Health's wayfinding functionality is built into the My Inspira app and makes complex sets of directions simple. The wayfinding solution:

uses simple universal icons that are easy to follow;
provides special routes for people using a wheelchairs or parents with children in strollers;
offers a Spanish language option; and
allows call center agents, physician office staff, volunteers, schedulers and event coordinators to share directions from any web browser to any mobile device or computer.
"Working with Inspira has been incredibly rewarding," said Jeff Fisher, Digital Health Client Strategist at Intraprise Health. "They have the desire and the ability to continuously improve their patients' experience. To date, there have been over 30,000 installs of the My Inspira app. And, with each new enhancement Inspira rolls out, like wayfinding, that number will only rise, increasing Inspira's brand awareness and creating patients for life."
For more information about Intraprise Health's wayfinding solution go to Intraprisehealth.com/Intraprise-health-wayfinding.
About Intraprise Health
Intraprise Health's Digital Health Solutions team helps hospitals and health systems forge stronger relationships with patients, enhance the care experience, and strengthen their brand, driving service line revenue, enhancing outcomes, and providing the ability to adapt to shifting reimbursement models.