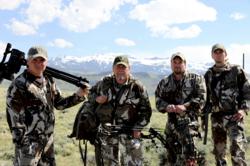 "Our goal is to make people aware that our rights and access to public lands reaches far beyond hunting, hiking, and other recreational uses"
Devils Tower, WY (PRWEB) September 08, 2011
While public lands belong to all citizens, their location is primarily in the western states. There's a good chance that most Americans are unaware of the constant battle being fought over the way these lands are used. The passionate hosts of a new outdoor television program are dedicated to bringing this important topic front and center.
The new Intrepid Outdoors is a unique hunting show on the NBC Sports channel Versus. Although hunting big game is the primary focus of the program, the entire production team is dedicated to educating viewers on the importance of keeping our kids active in the outdoors, responsible land management, and the issues concerning public lands. Each televised episode features a segment called "America—Free & Independent." This portion of the show emphasizes the importance of keeping public lands available for everything from hunting, fishing and hiking to American energy exploration.
"Our goal is to make people aware that our rights and access to public lands reaches far beyond hunting, hiking, and other recreational uses," explains Mike Schmid, Executive Producer and Co-Host of Intrepid Outdoors. "These lands, and the vast resources within them, have the potential to reduce our dependence on foreign energy." The show illustrates that, with responsible land management practices, these multiple uses can coexist. However, if we continue to lose access to these valuable resources, it will result in the decline of American energy development. When these development efforts decrease, it results in the loss of jobs and less revenue for federal and state treasuries. The U.S. simply cannot afford this potential loss, at a time when Americans are extremely concerned with the current out-of-control deficits and spending."
The primary reason the public lands should remain public is that they do, and will continue to, provide enormous resources (both economic and non-economic) to all citizens and future generations of this country. The public lands contain resources such as minerals, rangelands, forests, recreation, cultural resources and more, worth billions of dollars. As significantly, these lands offer environmental values such as clean water, clean air and proximity to mountains and rivers. In an increasingly crowded West, the public lands offer perhaps the most valuable asset of all — open space.
"Whether you hunt, hike, snowmobile, or drive an off-road vehicle, the team at Intrepid Outdoors wants to make sure America's land is kept open and available for use. The show provides us an opportunity to educate and inform," Schmid continued. "We're dedicated to doing our part in promoting responsible recreational access to public lands. These public lands should remain in national public ownership so that current citizens and future generations can share in their enormous beauty and bounty."
About Intrepid Outdoors
Intrepid Outdoors episodes can be seen Mondays at 11 a.m. Eastern time on Versus, which will become the NBC Sports Network in 2012. Although hunting big game is the primary focus of the program, the production team is dedicated to educating viewers about the importance of keeping our kids active in the outdoors, of responsible land management and of the many issues concerning public lands. Visit http://www.IntrepidOutdoors.com for additional information, photos of the hunt and more.
# # #