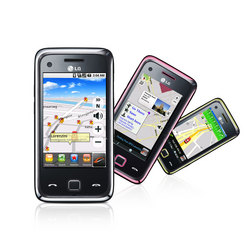 We look forward to bringing cross-platform Destinator 9 software to additional LG smartphone models running other operating systems like Android.
Vancouver, BC (Vocus) August 26, 2009
Intrinsyc Software International, Inc. (TSX: ICS), a leading provider of software solutions for mobile devices, today announced that LG Electronics (LG), a worldwide technology and design leader in mobile communications, has begun shipping Destinator 9 on select smartphones. The turn-by-turn, voice-guided GPS navigation software is currently shipping on the LG GM730 smartphone, which features the S-Class UI overlay running on Microsoft Windows Mobile. LG is launching smartphones with Destinator software in Singapore, with subsequent product rollouts planned for other Asian countries, including India, Indonesia, Malaysia, and Thailand.
Destinator navigation and it's routing engine is integrated on LG smartphones with other third-party applications including GyPSii, the market-leading geo-mobility social networking platform and service. LG GM730 smartphone users can now employ Destinator to get turn-by-turn directions to any location from within the Gypsii application. Additionally, Destinator 9 enables users to search for Points of Interest (POI) using most popular search engines, browse through their contacts or text messaging inbox to choose a destination address.
"LG is a global leader in connected mobile devices, so their launch of Destinator 9 as the GPS navigation application for LG GM730 smartphones is a true milestone for Intrinsyc," said Souheil Gallouzi, Senior Vice President and General Manager of Mobile Products Development, Intrinsyc. "We look forward to bringing cross-platform Destinator 9 software to additional LG smartphone models running other operating systems like Android."
Gallouzi continued, "Destinator 9 sets a new standard for excellence in the user's navigation experience on a smartphone with its innovative user interface and reliable performance. The ability to seamlessly integrate with other phone applications, including social networking services and popular search engines, enables LG GM730 to offer a new and enhanced navigation experience to LG mobile phone users."
The newest version of Destinator delivers the mobile industry's highest quality user experience in navigation devices, with a host of new capabilities and features designed to get people to their destinations easily, quickly, and safely. Users can find information faster with fewer clicks using innovative new features such as NavStrip™, Tap N Go™, Online Search, StickyPOI, and Gesture Recognition.
Audio and visual turn-by-turn navigation features include an on-screen speed limit indicator with audible warning; broad geographic map coverage with current maps from multiple sources; optional visual lane guidance to eliminate confusion at complicated interchanges; optional safety camera support; and support for all major languages.
Destinator is an on-board navigation software solution, enabling users to have superior navigation in areas of poor cellular coverage. Destinator 9 is currently available for Android mobile phones, Microsoft Windows Mobile smartphones, Personal Navigation Devices (PND) and connected PNDs based on Microsoft Windows Embedded CE.
About Intrinsyc Software International, Inc.
Intrinsyc empowers device makers, mobile operators, and silicon vendors to deliver compelling, next generation mobile devices with faster time-to-market, higher quality, and differentiating innovation. Our customers and partners rely on our award-winning device development software and services and our industry-leading navigation software and location-based services solutions. Intrinsyc globally supports customers with solutions that span all major mobile operating systems and platforms, including Windows Embedded CE and Windows Mobile, Linux, Android, and Nokia/Symbian. Intrinsyc is publicly traded (TSX: ICS) and headquartered in Vancouver, Canada, with offices in China, Israel, Taiwan, U.K. and the United States. http://www.intrinsyc.com.
For more information, please contact:
Elizabeth Rosenbaum
Vice President, Corporate Marketing
Email: erosenbaum (at) intrinsyc (dot) com
Phone: +1-604-632-3579
Investor Relations
George Reznik
Chief Financial Officer
Email: greznik (at) intrinsyc (dot) com
Phone: +1-604-678-3734
###