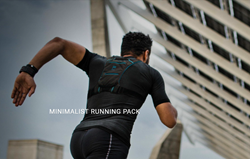 Christine, a marathon runner, said, "I love FITLY! I've tried multiple running belts and bags and they all ride up or move once I get going. And the material never seems to keep my phone safe from moisture. FITLY stayed snug, fit comfortably, and it kept my phone dry!"
GREENACRES, FL (PRWEB) October 10, 2017
60+ million runners in the USA face the same issue every time they go for a quick run—what should they do with their cell phone, their keys, etc. and what if it suddenly rains? FITLY, a specially designed running pack for short runs, will be introduced on Kickstarter October 16 at 9 a.m., where the first early birds can pre-order one at 50% of its retail value. Visit http://www.kickstarter.com.
FITLY is made by runners, for runners and meets high performance standards. Preventing your phone, keys, ID, cards, and whatever else you take on your short runs from bouncing is key to running in comfort. A minimalistic approach accounting for biomechanics, FITLY focuses on complete freedom of movement, lightness and convenience while protecting valuables from the weather.
Although FITLY is meant for running, it also works well when cycling, hiking, kayaking, travelling and any other activity where users need to keep their necessities both close and secure.
FITLY is also premiering its patent pending thoracic belt system, a stretch band with two convenient front pockets, biomechanically positioned for easy access to small valuables while on the run. The gentle stretch locks all items in place so no bouncing ever occurs. Loose coins, keys, gels all stick to you for your running comfort.
Some of FITLY's cutting edge features include:

Fidlock™ Magnetic Fastener system has a magnetic snap and mechanical lock for a revolutionized fastening system.
X-shape: using the steadiness of your upper back and chest area, FITLY's X-Shape weight distribution snugly fits your body contours. It allows free running movements while preserving total body symmetry. A pleasant feeling of wearing almost nothing.
200% Ultrawick and award winning S-cafe® fabric, an eco-friendly nylon mixed with recycled ground coffee to achieve odor resistance and incredible moisture wicking.
Cordura® prevents high abrasion and is puncture resistant for durability.
Bounce-free smartphone slot has a pull tab for easy retrieval.
Special noise-free zipper tabs avoid annoying ticking noises when running.
Smart multi-compartments with water-resistant liners keep valuables safe and dry.
Reflective bands keep runners visible at night, with a whistle for emergencies, and slots for coins, credit cards, IDs, etc.
Brandon, a personal trainer in Boca Raton Florida, said, "I have been a runner my entire life and FITLY is one of the best product I've ever used. I can jog or sprint with my wallet, phone and keys and it won't move even with the added weight. It feels just like a part of your body."
Christine, a marathon runner, said, "I love FITLY! I've tried multiple running belts and bags and they all ride up or move once I get going. And the material never seems to keep my phone safe from moisture. FITLY stayed snug, fit comfortably, and it kept my phone dry!"
For more information about these features, visit http://www.fitlyrun.com/technologies/.
ABOUT FITLY
FITLY is the fruit of a lifelong love of running. The inevitable search for a discrete, simplistic, and exceptionally convenient companion to safely carry your valuables when going outside. FITLY designed exactly that with some surprising (patent pending) twists! Follow us on Instagram at https://www.instagram.com/fitlyrun/?hl=en.