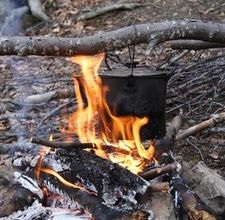 The 91% of Americans who have failed themselves by not preparing for disasters finally have a source of expert training.
Austin, TX (PRWEB) April 29, 2012
An introduction to survival skills is desperately needed in the United States, said today's AbsoluteRights.com article. Research has shown that 91% of Americans are not prepared for a major disaster, and certainly not prepared for an extended period of self-sufficiency. With real threats knocking on our doors on a daily basis, the article said something needs to change immediately.
For the first time, a complete emergency preparedness plan is available for all skill levels. Whether people have been preparing for disaster all their lives or never thought twice about their survival chances, Absolute Rights is helping to upgrade the collective state of preparedness for the entire country, the article said.
"40 Days and 40 Nights" is the top-rate training system for preparing before a disaster strikes. The step-by-step instructions inside the training course will keep people focused on the most important, personally-controlled aspects of a crisis. "40 Days and 40 Nights" explains the two components to disasters: the damage and effects of them directly, plus the panicked reactions that people have afterward. It teaches how to focus on the controllable aspects, and in turn awards the utmost confidence in survival skills.
The subscription-based course includes 6 training modules, each with a video, audio file, and printable handouts to follow along with the lesson and ensure retention of the most vital information. Every module is stored on the "40 Days and 40 Nights" members-only website, so members can start and restart any part of the course, and come back to it later if they missed something.
The most beneficial feature of "40 Days and 40 Nights" is its direct communication line to the brains behind the system. Wallace Streete, the mastermind who came up with the program and delivers the video and audio lessons, shares his personal email address with members. That way, they can ask specific questions, share their personal goals, and get as much out of the experience as they possibly can.
Absolute Rights informs patriotic Americans on their given rights, plus helps protect those rights from government intrusion. Most importantly, it prides itself on alerting people when their rights are being threatened, creating an active and informed community. For more information, be sure to visit AbsoluteRights.com.
The 91% of Americans who have failed themselves by not preparing for disasters finally have a source of expert training. For those who fall into that category, it's imperative that they do something about it today. "40 Days and 40 Nights" serves as the best introduction to survival skills available, and guarantees an exponential boost in emergency preparedness.