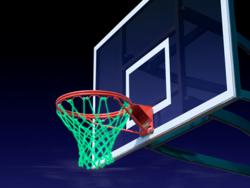 PITTSBURGH, PA (PRWEB) May 28, 2013
InventHelp® introduces "Nite Hoops," a glow-in-the-dark basketball net that allows players to see the basket while playing at night.
Nite Hoops helps basketball players hone their skills even after the sun goes down. The net is illuminated in the dark, and works well on an unlit court or driveway. The light from Nite Hoops also helps to improve the visibility of the backboard and base of the hoop. The product helps to improve a player's accuracy, since they are still able to practice as darkness falls. Easy-to-use and safe, it enables children to stay in the yard after dark to play basketball instead of having to go to another location.
Made of a combination of nylon and cotton, Nite Hoops net fits any standard basketball hoop. During the day, the net pulls the sunlight in and holds it, similar to a solar panel, and then illuminates for up to 8 hours in darkness. Nite Hoops basketball net is available in three colors: fluorescent green, blue and yellow. Suggested retail price: $19.99 + S&H.
InventHelp is seeking marketers and distributors in the sporting goods industry. Nite Hoops are available on InventHelp Store, a website of innovative new products by InventHelp's licensing and product marketing partner Intromark Incorporated. For more information, or for ordering, contact us at 217 Ninth Street, Pittsburgh, PA 15222; call (800) 851-6030 or (412) 288-1368; fax (412) 338-0497 or via e-mail at licensing(at)intromark(dot)com.
Manufacturers interested in reviewing additional inventions and new product ideas can contact Intromark by filling out an online request to review new product ideas here.
# # #