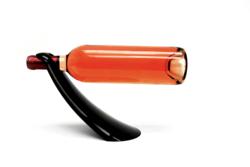 Pittsburgh, PA (PRWEB) May 23, 2013
InventHelp® introduces the "Wine Horn," a product that serves as an attractive holder for wine, as well as a smart way to extend the life of wine.
Experts say wine should be stored horizontally so that the wine contacts the cork. This contact will keep the cork moist which is important for wine. If the cork dries out, it leaks air and the wine will spoil. Wine Horn is a unique wine holder that will balance the wine bottle horizontally when placed on a flat surface. The wine holder appears to defy gravity, acting as a conversation piece. Not only is the product key to sustain the freshness of the wine, but it is a visually appealing décor item and an inexpensive piece of modern art.
Wine Horn is comprised of a plastic unit that is similar in shape to a shoe horn. The horn features a hole at the narrow end to accommodate the neck of the wine bottle. A user would rest the wide end of the horn on a flat surface, which then balances the wine bottle horizontally. Additionally, Wine Horn can be used for promotional purposes for logo placement and advertisement. Ideal for home, commercial, promotional, and art use, Wine Horn fits all standard 750 ml wine bottles. Suggested retail price: $12.99, plus shipping and handling.
InventHelp is seeking marketers and distributors in the bar/restaurant/wine, promotional, interior design, home, and gift/novelty industries and direct response. Wine Horn is available on InventHelp Store, a website of innovative new products by InventHelp's licensing and product marketing partner Intromark Incorporated. For more information, or for ordering, contact us at 217 Ninth Street, Pittsburgh, PA 15222; call (800) 851-6030 or (412)288-1368; fax (412) 338-0497.
Manufacturers interested in reviewing additional inventions and new product ideas can contact Intromark by filling out an online request to review new product ideas here.