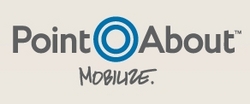 Washington, DC (PRWEB) October 18, 2010
PointAbout, a Washington DC based interactive consulting and development firm, is set to launch a series of training classes for developers interested in mobile applications development. The mobile apps industry is gearing up to be a multi-million dollar industry with heavy consumer interest in both simple to use lifestyle applications and engaging casual games.
To foster more developers taking action to create new and interesting mobile apps, PointAbout has developed courses in Objective-C, the programming language used to develop iPhone devices, and Java programming language for Android devices.
Beginning in November a 3-day Introduction to Objective-C course begins at 1410Q; located at 1410 Q Street, NW. The dates for the course are November 6th, 13th, and 20th, which are the first three Saturdays of the month. Each class will meet from 9am-2pm and includes a 30 minute catered lunch break. More advanced classes on iOS development will follow.
Matthew Burke, a George Washington University professor and previously teaching for St. Mary's College of Maryland, will conduct the Introduction to Objective-C course. Mr. Burke is also a professional software developer having worked with Ars Digita, SAIC, completed numerous corporate contracts, and has experience developing for Palm devices. For almost a year, he has been with PointAbout developing apps for iPhone and Android.
The Introduction to Objective-C courses are sponsored by Disruptathon and the Washington Mobile Developers Meetup Group.
Additional course information:
Size: 15
Cost: $799, early bird $599 (before October 30)
Course requirements: bring your own Mac laptop with Xcode 3.2.4 and the Mac OS X 10.6 SDK installed. You should have a programming background in an object-oriented language like Java, C#, C++, Ruby, or Python.
Class Advantages: The schedule of the class is designed to help students master the material. The 5 hour day makes it easier for students to stay focused in class and have time between class sessions to practice and reflect on the material covered. The class focuses on Mac OS X development, rather than iOS development. This allows the student to concentrate on learning Objective-C without the additional overhead of complications involved in running on the iOS platform (such as code signing). Topics specific to iOS are covered in future classes after students have mastered the fundamentals.
Course Contact: Matthew Burke, matt(dot)burke(at)pointabout(dot)com
About 1410Q:
1410Q is the world headquarters for PointAbout, creators of AppMakr. It is an entrepreneur-friendly technology innovation hotspot located in the heart of Washington, DC. 1410Q provides an environment for technology entrepreneurs to explore their capabilities, while being surrounded by other tech entrepreneurs. For details, contact Daniel R. Odio at Daniel(dot)Odio(at)PointAbout(dot)com or 202.250.3846
###