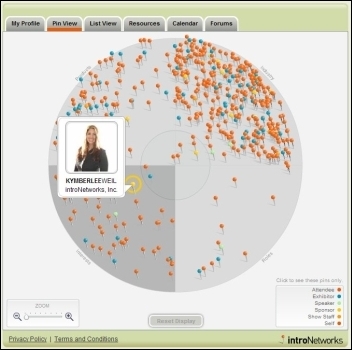 Our focus on developing for Adobe's Flash® Player makes sure that all our customers will have the same rich media experience - no matter what browser they are using
Santa Barbara, CA (PRWEB) January 8, 2007
Santa Barbara, CA (PRWeb) January 8, 2007 -- Today, introNetworks, the award-winning developer of professional online communities, announced the new release of the immensely popular introNetwork System™. This feature-packed release is the result of the combination of intense customer collaboration, forward thinking engineering and the founders' commitment to delivering a compelling user experience all while meeting the business objectives of a diverse client base. introNetworks' online community members will appreciate the speed advantages this new release offers, with the ability to generate and save dynamic searches and have ranked results displayed in seconds in a graphic or list view.
"We are continuing to find ways to optimize our Visual Matching Engine™ to improve the efficiency of matching people and products," said Mark Sylvester, CEO and Co-Founder of introNetworks. "We have been spending time working closely with several clients to build out specific pieces of functionality, then rolling that out to the entire client base. We have focused on completely rewriting Search so that online community members can create complex search profiles with a few mouse clicks. This release continues to illustrate our commitment to providing the coolest user experience while we deliver rich information on the back end so our customers can understand their audiences better. Clients including Autodesk, Business Objects, CMP's Game Developer Conference and Ziff Davis have already upgraded to the our new release."
"Our focus on developing for Adobe's Flash® Player makes sure that all our customers will have the same rich media experience - no matter what browser they are using," said Kymberlee Weil, President and Co-Founder of introNetworks. "As one of the first companies to develop Rich Internet Applications, we are always looking for ways to innovate and take advantage of performance improvements that Adobe continues to make. This release gave us the opportunity to greatly fine tune overall system performance as we migrated to new servers and implemented dynamic queries which formed the basis for our new Search Profiles."
The new Release expands introNetworks' already robust social-networking and online community platform which is powering professional communities across the technology, media, and knowledge management industries. Features of the system include interactive profile creation, dynamic matching and searching between any entity, patent-pending visualization and community communication tools, community discussion forums, global and personal calendar functionality, spam-free introMail™ and email notifications, document, photo and video file sharing, a micro-targeted messaging platform and a revenue-generating advertising engine, and phenomenal community reporting.
The introNetworks System is used in three different applications called eventNet™, memberNet™ and talentNet™. Each of which is a hosted application that can be created and launched within hours. The founders are personally involved in the creation of each professional community to assure that their years of experience are fully utilized as first-time clients strive to build and integrate effective and compelling online networking systems.
A partial list of new features follows:
Community Discussion Boards
This is the cornerstone of the community communication capability of the system. Moderators can create as many categories as needed, users can post topics and the entire community can post replies.
Unlimited Tags and Keywords
These words are at the heart of the Visual Matching Engine and are customized for each Community and then used to describe an audience, product or service.
Global and Personal Calendars
The calendar allows system managers to post events for everyone to access and allows individual users to manage their own personal calendar.
Build Advanced Searches and Search Profiles
Users can now create and save a dynamic Search Profile that accesses any information in the introNetwork System, including demographic data, Tags, or answers to specific questions.
Pin View and List View Synchronization
The principal interface to the results of the redesigned Visual Matching Engine™ is in a unique graphical view called the Pin View, which shows relevant matches to searches and the results of the ranking engine. A corresponding List View now also shows those matches in rank order, so users know exactly what thier best matches are.
introMail™ and Video
Easily adding video to a message between Community members greatly improves the 'human connection'. We support all popular web cameras including embedded cameras in laptops.
Image Zoom
Photos can be shown in a portfolio view and when clicked, can be seen in an integrated viewer at a larger resolution allowing for greater impact.
Document Sharing
Community members can now upload documents, PDF's, or virtually any digitally formatted file for easy sharing.
Control Panel and Administrative Features
This aspect of the system was completely rewritten for this Winter Release. It incorporates complete management of users, advertising, resources, calendar entries, and user-generated content.
Connecting to Databases
A major strength of the introNetwork architecture is the secure connections that can be made to databases of people and content. These connections are based on an API that allows for seamless integration with any database. This highly configurable approach allows for push, pull, automatic posting, and single sign-on gateways. Client side secure web-services can be configured easily providing a transparent experience for end users when they login.
Rapid Deployment - Build and Launch a System in Hours
All text, including the user interface elements can be customized to fit brand requirements. Each component of the system can be individually styled and created to fit the requirements of the event, organization or corporation.
introNetworks, Inc.
introNetworks Inc, offers a versatile social networking platform for creating online communities which drive continual success for events, associations and corporations. The introNetworks technology platform unites people and empowers communities, which is extremely valuable for media, technology and knowledge management clients including: Adobe, Autodesk, Business Objects, CMP, Meredith Publishing, Pop!Tech, TED, The American Dental Association (ADA), The American Society for Training and Development (ASTD), the American Society of Association Executives (ASAE and the Center), Young Presidents Organization and Ziff Davis. The 'cool factor' of the user experience guarantees that first time users become hooked on the application.
The company is headquartered in Santa Barbara, California. For more information, please visit the introNetworks website at http://www.intronetworks.com or call (805) 576-1420.
###