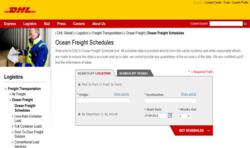 With our latest release of OceanSchedules, INTTRA brings customers a complete suite of ocean scheduling solutions with options on how to access and incorporate this information into their existing planning processes
Parsippany, NJ (PRWEB) September 27, 2012
INTTRA, the world's largest, most active network for ocean shipping, announced today major enhancements to OceanSchedules, the ocean shipping industry's most comprehensive multi-carrier scheduling solution. With this release, customers can now access and evaluate over 7 million global vessel schedules from 31 carriers with a new option for integrating OceanSchedules within existing applications and support for additional data formats for customers who want to load data directly into their systems. OceanSchedules now offers companies of any size the widest array of options for accessing, evaluating and choosing the voyage that best meets their needs from a single source.
Included in this release of OceanSchedules is a new delivery format that supports the requirements of SAP's Transportation Management Solution. Current SAP customers can immediately take advantage of these new delivery options by contacting INTTRA to begin receiving OceanSchedules. This format joins XML and EDI as a way for shippers and alliance partners to receive OceanSchedules information.
Additionally, the OceanSchedules suite of products now offers both shippers and software providers a way to easily integrate OceanSchedules directly into their own solutions. With this release, INTTRA is delivering access to OceanSchedules through a web service that retrieves available schedules in real-time, eliminating the need to load schedules into a local database. CargoSphere, a leading rate management and negotiation system, and DHL Global Forwarding, a global leader in freight forwarding have both recently integrated OceanSchedules into their products.
"Finding the right voyage is an integral part of the entire shipping process and customers require fast, efficient and easy to use services to simplify this process," said Andreas Krueger (Vice President, Head of Global Ocean Freight Operations, Quality & Compliance), DHL Global Forwarding. "Now we have a DHL branded solution powered by INTTRA that complements our existing scheduling solution. This is a nice enhancement to our current dhl.com ocean freight pages for our customer and site visitors to enjoy."
"With our latest release of OceanSchedules, INTTRA brings customers a complete suite of ocean scheduling solutions with options on how to access and incorporate this information into their existing planning processes" said Ivan Latanision, Senior Vice President of Product Management for INTTRA. "Now customers have more choices for ensuring they have an economical and efficient process for searching and selecting ocean voyages."
Additional Resources

To learn more about INTTRA OceanSchedules click here.
About INTTRA
INTTRA is the world's largest, multi-carrier network for the ocean shipping industry. INTTRA professionals work with 40 leading carriers and NVOCCs, 109 software alliance partners, as well as their customers, to streamline and standardize their shipping processes worldwide through a network of more than 200,000 shipping professionals. Over 525,000 container orders are initiated on the INTTRA platform each week, representing more than 18 percent of global ocean container trade. For further information, visit http://www.inttra.com or contact Win Ross, Corporate Marketing Manager, +1.973.917.1509, win(dot)ross(at)inttra(dot)com
INTTRA, the INTTRA logo, INTTRA-LINK, INTTRA-Desktop, INTTRA-ACT, and OceanMetrics are trademarks or registered trademarks, service marks or registered service marks of INTTRA Inc. All other product and company names mentioned herein may be trademarks of their respective holders.