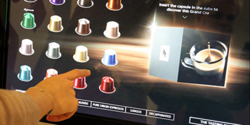 This roll-out represents a seven-fold increase over the initial pilot, now including most of Western and Eastern Europe as well as farther afield in places like Argentina, Australia, Israel and Hong Kong.
Toulouse, France (PRWEB) November 15, 2012
IntuiLab, a leader in the design, creation and deployment of innovative multi-touch experiences, is proud to report that Nespresso has deployed a record volume of sales kiosks running IntuiLab's IntuiFace Commerce software. This software uses the latest in interactive UI design and business workflow to produce a memorable and highly effective retail installation that speaks to today's digitally savvy consumer. Nespresso has illustrated the appeal of this "new generation" user experience by achieving what is likely the largest multi-national deployment of its kind.
This roll-out represents a seven-fold increase over the initial pilot, now including most of Western and Eastern Europe as well as farther afield in places like Argentina, Australia, Israel and Hong Kong. With over 250 installations it is the largest of its kind for the new generation user experience typified by IntuiFace Commerce.
IntuiLab is not new to such unprecedented growth, having already been responsible for creating and deploying a tablet-based retail application for SFR – France's second largest wireless telecom operator - that is now in over 500 stores, the largest in-store Android deployment on record. "We have learned from over 7 years of working on multi-touch projects that there are no shortcuts to success in the retail world," says Vincent Encontre, CEO of IntuiLab. "You need great technology, cutting edge design, and a focus on the long term to anticipate both challenge and opportunity. IntuiLab embraces this formula and we are thrilled to see how well Nespresso has benefited from our partnership."
In 2011, Nespresso launched a worldwide project to add a new sales channel inside large department stores. They wanted to 1) accelerate the recruitment of customers for this shop-in-a-shop experience, 2) energize their image to appeal to new customers, and 3) speed the time to purchase.
With the help of IntuiFace Commerce, these objectives were translated into a luxury experience combining the clean aesthetics of the brand with a modern, innovative and memorable digital application. The result was an elegantly crafted interactive application – on display technology supplied by 3M – equipped to enable both self-service as well as assisted promotion and selling. The software's core capability combines product browsing and filtering with selection. Secondary capabilities include brand promotion, 3D informational views, live call center access for ordering and backend monitoring for analytic collection. Throughout, fully interactive high definition images, video and 3D modeling create eye-catching effects that capture attention and inspire purchase. And behind the scenes, an enterprise class software infrastructure enables centralized remote monitoring, management and updates, easing installation and set-up by non-technical personnel across the globe.
The increasing ubiquity of handheld touch devices has created a consumer class comfortable with interactive applications, resulting in a backlash against pre-smartphone experiences. Through the use of cutting edge interactive technology and an intimacy with the science of human-machine interaction, IntuiLab delivered an engaging, intuitive and highly functional application that appealed to this new generation of consumer.
About IntuiLab
Founded in 2002, IntuiLab is a global leader in the creation of in-store interactive customer experiences. Our cutting edge multi-touch and sensor-based applications are based upon a portable, scalable and extensible natural user interaction platform combining our expertise in human-machine interaction with enterprise-class server technology. The results are visually stunning, deeply functional, high ROI experiences for any retailer. IntuiLab partners with a variety of Tier 1 and Tier 2 industry players and has clients in multiple retail sectors including grocery, apparel, specialty, convenience, telecom and banking/insurance. More information is available at http://www.intuilab.com.