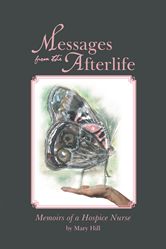 "Mary's beautiful book helps us to remember that death is but a change and not an end," Author Robert Holden said about the book. "Real communication is soul-to-soul, whether we are in a body or not."
HUNTINGTON BEACH, Calif. (PRWEB) January 14, 2019
Since her teenage years, Mary Hill was fascinated with the concepts and mysteries surrounding death and dying. During her career as a Hospice Case Manager and Registered Nurse, she offered spiritual healing practices to patients to aid them in their transitions into the afterlife.
In "Messages from the Afterlife: Memoirs of a Hospice Nurse," Hill shares the close relationships she had with several patients and the experiences she had with them visiting her after their transition into the afterlife. She also details her relationship with her mother as she declined in health and eventually passed over, coming to Hill with messages of love and wisdom.
"May your hearts be filled with divine grace as you read these stories, and possibly address the notion of your own mortality or someone you love," the author said.
"Mary's beautiful book helps us to remember that death is but a change and not an end," Author Robert Holden said about the book. "Real communication is soul-to-soul, whether we are in a body or not."
Readers looking for comfort in the face of transition, those intrigued by the afterlife, and individuals interested in alternative medicine versus western medicine will enjoy the stories in "Messages from the Afterlife" and will find solace and wisdom within each page.
"Messages from the Afterlife: Memoirs of a Hospice Nurse" By Mary Hill
ISBN: 9781982202019 (softcover); 9781982202002 (hardcover); 9781982202026 (electronic)
Available at the Balboa Press Online Bookstore, Amazon and Barnes & Noble
About the author
Mary Hill is a highly intuitive spiritual healer as a Reiki Master, Shamanic Practitioner and Certified Kundalini Yoga Teacher. She has 13 years of experience with hospice patients as a Certified Hospice Palliative Nurse and is now retired and living in Huntington Beach, California. She loves spending her time with her husband and two cats and she can also be found walking along the shores of the majestic Pacific Ocean.