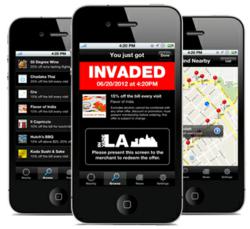 No matter where they go, members can easily find great deals nearby and enjoy the benefits when visiting one of the InvadeLA's participating partners.
Los Angeles, CA (PRWEB) January 16, 2013
The down economy has surged the popularity of online coupon redemption and ultimately created a new generation of local bargain hunters. According to web searches in the past year, Los Angeles is the #1 city in California looking for "digital coupons" and local businesses are trying to find new and innovative ways to take advantage of these social media driven deals and offerings. InvadeLA, a new and unique membership service that promotes everyday perks and offers to subscribers , recently launched a mobile app on the App Store and Google Play making it even easier to find deals around Los Angeles, with just a flash of the phone – no coupons, codes or check-ins required.
"We studied the current formula of social buying and looked at both sides of the equation," said Jonathan Zargarian, co-founder of InvadeLA. "What would the customer prefer? Getting a large, one-time discount at a single business? Or saving money repeatedly at variety of merchants, all day, every day of the year. How about the other side of the equation? What does the business owner prefer? Dropping the price of food, services, and products by 50%, and sharing half of their earnings with an outside third party? Or providing an offer they are comfortable with, promoting everyday business, and keeping all of the earnings in their own pocket. We wanted to create a true win-win for both sides, and that's how InvadeLA was born."
How the InvadeLA app works:
InvadeLA provides a free mobile app that lets members redeem offers at hundreds of local restaurants and services with just the flash of membership. Members of InvadeLA are not tied to only one merchant's offer, and after purchasing a yearly subscription, offers are valid to them all day, every day of the year. Users are able to lookup nearby businesses through GPS, browse merchants by category and type, or search keywords to find exactly what they are in the mood for. When they decide on where they want to "invade", all they have to do is hit the redeem button on the profile page and display the redemption screen to the merchant. The app also links to the InvadeLA blog letting members read real-time updates from the company, announcements of newly added partners, and actual experiences they've had when "invading" one of their locations. No matter where they go, members can easily find great deals nearby and enjoy the benefits when visiting one of the InvadeLA's participating partners.
How InvadeLA differs from other deal sites and communities:
1) No codes required, no coupons to print out
2) Deals do not have an expiration date
3) Database of hundreds of local businesses and growing throughout the year
4) No advanced purchase is required for each individual merchant
Membership Privileges:
InvadeLA encourages its members to be adventurous and take chances on new experiences, but in a cost effective way. The service provides unlimited access to deals at hundred of restaurants, spas, salons, fitness centers, and more. Members are able to download the app for free and are granted one week of unlimited use. Once the 7-day trial expires, members are required to purchase a yearly membership for a small fee.
Member Benefits:

Save money and redeem the price of membership in as little as one use
No need for passcodes, print-outs, or cutting out coupons
Perks and deals exclusive to InvadeLA members only
Easily browse through hundreds of offers through the mobile app or website
Receive notifications on newly-added partners and promotions
New merchants are continuously added to the roster throughout the year
Share savings with friends and family at participating locations
Try new restaurants, services/classes, and products without a full-priced commitment
Anyone can download the app for free on either the App Store or Google Play.
Merchant Privileges:
When merchants sign up, InvadeLA will advertise their business to the members at no cost to the merchant. InvadeLA aims to create a community of loyal customers and not just coupon cutters. These are members who are able to return to the business and redeem repeatedly as they are not coming in to redeem a one-time offer.
Merchant Benefits:

Merchants will gain exposure to InvadeLA members at no cost
Be discovered on every smartphone with the InvadeLA app through our merchant directory
Opportunity to offer new and creative promotions to attract more customers to your business
Social media campaigns, search engine rankings, and increased awareness of your brand through the InvadeLA marketing channels
Merchants can contact InvadeLA to sign up through their website.