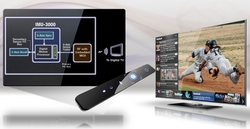 Motion command is becoming a standard interface in the consumer electronics industry, according to Pam Tufegdzic, consumer electronics analyst at the market research firm iSuppli Corp.
Sunnyvale, Calif. (PRWEB) April 6, 2010
InvenSense, Inc., the leading solution provider for the motion processing market, today announced the IMU-3000™ family of inertial measurement units (IMUs). The IMU-3000 has an embedded 3-axis gyroscope and Digital Motion Processor™ (DMP) hardware accelerator engine with a secondary I2C port that interfaces to third party digital accelerometers to deliver a complete 6-axis sensor fusion output to the primary I2C port. This combines both linear and rotational motion into a single data stream for the application. The device is ideally suited for a wide variety of consumer products requiring a rugged, low-cost motion processing solution for applications in game controllers, remote controls for broadband connected TVs and set top boxes, sports, fitness, medical and other applications. By providing an integrated sensor fusion output, the IMU-3000 offloads the intensive motion processing computation requirements from the host processor, reducing the need for frequent polling of the motion sensor output and enabling use of low cost, low power microcontrollers.
Motion command is becoming a standard interface in the consumer electronics industry. Because of this feature, sales of Nintendo's Wii in 2009 grew to account for a 43 percent share of video game consoles shipped in 2009, prompting Sony and Microsoft to introduce motion sensing game play solutions in time for the holiday season this year, according to Pam Tufegdzic, consumer electronics analyst at the market research firm iSuppli Corp., El Segundo, Calif.
"While the combination of the 3-axis accelerometer with a 3-axis gyroscope provides much fuller and more accurate recognition of user motion than an accelerometer alone, the task of fusing the signals from both sensors is everything but trivial," said Jérémie Bouchaud, principal analyst for MEMS and sensors at iSuppli. "A solution that can process both types of signals will ease the work for the OEM and contribute to accelerating adoption in gaming, as well as other consumer applications, like IPTV remotes."
The IMU-3000 features a 3-axis digital gyro with programmable full-scale ranges of ±250, ±500, ±1000, and ±2000 degrees/sec, which is useful for precision tracking of both fast and slow motions. Rate noise performance sets the industry standard at 0.02 degrees/sec per √Hz, providing the highest-quality user experience in pointing and gaming applications. Factory-calibrated initial sensitivity of 1% reduces production-line calibration requirements. The part's on-chip FIFO and dedicated I2C-master accelerometer sensor bus simplify system timing and lower system power consumption; the sensor bus allows the IMU-3000 to directly acquire data from the off-chip accelerometer without intervention from an external processor. Other industry-leading features include a small 4mmx4mmx0.9mm plastic QFN package, on-chip16-bit ADCs, programmable digital filters, a precision clock with 2% accuracy over -40°C to 85°C, an embedded temperature sensor, programmable interrupts, and a low 13mW power consumption. Parts are available with I2C and SPI serial interfaces, a VDD operating range of 2.1 to 3.6V, and a VLOGIC interface voltage from 1.71V to 3.6V.
"The IMU-3000 addresses the market need for a complete solution to address motion processing in a wide range of applications without adding system processing overhead," said Michael Maia, Vice President, InvenSense Gaming and 3D User Interface Business Unit. "By driving the processing into the device, the IMU-3000 enables a low power, low cost solution that can now be easily integrated with significant time-to-market improvements."
The key enabling technology behind the size and high performance of the IMU-3000 is the company's patented and volume-proven Nasiri-Fabrication platform, which directly integrates MEMS mechanical structures and CMOS electronics at the wafer level enabling the industry's lowest noise specification, lowest power consumption, and smallest package size. Leveraging its 8" fabrication platform and its in-house high volume test and calibration facilities in Taiwan, the IMU-3000 is designed to support the high volume requirements of the consumer marketplace.
The IMU-3000 family is available now for sampling by select qualified customers with mass production in Q2 2010 and is priced at under $3.50 for high volume applications. For more information visit InvenSense at http://www.invensense.com.
About InvenSense
InvenSense is the leading solution provider for the motion processing market for mobile consumer applications, with proven technology and products shipped in millions of units monthly to customers worldwide. The company's patented MotionProcessingTM technology and Nasiri-Fabrication platform address the emerging needs of many mass-market consumer applications such as gaming, image stabilization, remote controls, and handsets that require improved performance, enhanced features, and new and more intuitive motion and gesture-based user-interface solutions. InvenSense is a privately held company with headquarters located in Sunnyvale, California. More information can be found at http://www.invensense.com.
InvenSense, MotionProcessing, IMU-3000, Digital Motion Processor and the InvenSense logo are trademarks of InvenSense, Inc.
# # #