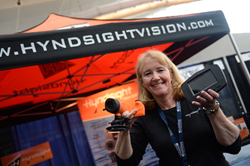 PITTSBURGH, PA (PRWEB) June 23, 2017
InventHelp's INPEX, America's Largest Invention Trade Show, announced gold medal and cash prize winners at the closing awards ceremony for its 32nd annual show, held June 13-15 at the David L. Lawrence Convention Center in downtown Pittsburgh.
Gold medals were presented in 45 categories including wellness/fitness, hardware/tools, and automotive/transportation products. Merit awards and several special awards were also presented. Each invention is judged by an independent international jury committee, and for 2017, the Grand Prix winner ($7,500 cash prize) is as follows:
Hyndsight Journey, invented by Melissa Thompson, of Peterborough, NH – A wire-free camera and monitor system that requires no wires, no internet and no installation – giving it the ability to be used virtually anywhere! It has a broadcasting range of up to 1/3-mile, and is waterproof, rugged and durable, perfect for using outdoors. Because there are no wires, the camera can be moved easily from one location to the other. – http://www.hyndsightvision.com.
In addition to that award, she also nabbed gold medals in the Agriculture, Safety and Security/Industrial, Specialized Technology and Telecommunications categories.
In addition to Hyndsight Journey, two other cash prizes and runner-up awards were given. Rod Hess, of Brockton, Mass., took home first runner-up ($3,000) for their invention, the "GrowlerGasket™" offers personalization capabilities with a medallion cavity and also preserves freshness and carbonation better through incorporation of an inner dome and a greatly improved silicone gasket. Several Taiwanese inventors received the second runner-up prize ($2,000) for The Use of Minerals and Trace Elements Containing a Variety of Natural Plant Synthesis of a Comprehensive Balanced Nutrition Good Alkaline Drinks.
Additional information about these inventors and their inventions are available. A complete list of the category award winners is also available. Please contact Chrissa Chverchko for additional information at cchverchko@inpex.com or (800) 424-2089, x4118 or visit https://www.inpex.com/award-winners/.
INPEX is a unique trade show that provides opportunities for inventors to present, demonstrate and promote their invention to companies looking for new products and ideas. The show is a service of InventHelp®, one of America's leading inventors service companies. For more information about INPEX, call 888-54-INPEX or visit http://www.inpex.com.
InventHelp is a leading inventor service company, helping inventors since 1984. InventHelp submits its client's inventions, products or ideas to industry in an attempt to obtain a good faith review. For more information about InventHelp services, visit http://www.inventhelp.com or call 1-800-INVENTION. InventHelp, 217 9th Street, Pittsburgh, PA 15222-3506.
# # #