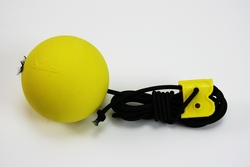 This product is completely unique and caught our attention immediately
Canonsburg, Pennsylvania (Vocus) June 10, 2010
B-LAX appoints Ad-Gen, an agency that specializes in bringing innovative new products to the marketplace, as the exclusive agency for expanding distribution for its new Blast Lacrosse Trainer across the country.
"The product is legit. You can read testimonial after testimonial on my B-LAX.com site raving about this training device." Stefan Craine, inventor of the Blast Lacrosse Trainer, explains, "I realized I needed to reach lacrosse players nationwide and show them how this product will improve their skills. That is why I chose to work with Ad-Gen." Ad-Gen is responsible for presenting this product to leading sporting goods retailers nationwide including Dick's Sporting Goods, The Sports Authority, Dunham's, as well as many others.
The Blast Lacrosse Trainer is a regulation lacrosse ball, attached to an elastic cord, which has a patent protected attachment device that can be affixed to any lacrosse stick head. The Blast Lacrosse Trainer was invented and designed to improve confidence, hand-eye coordination, comfort in ball delivery and catching, and provide game-time quick situations that provide immediate feedback for the user.
The product has already sold thousands of units from its website and through its limited distribution. In addition to these early sales figures, this product has already gained the attention of Lacrosse Magazine and they described the B-LAX Blast Lacrosse Trainer as one of the best new items for 2010.
"This product is completely unique and caught our attention immediately," said Neil Montgomery, Director of Operations for Ad-Gen. "Especially with the sport of lacrosse exploding across the country, the sky is the limit for the Blast Lacrosse Trainer and we are excited to offer retailers the opportunity to add it to their product mix."
About Ad-Gen
Advertising & Business Generation, LLC (Ad-Gen) is part of the Montgomery IP Associates Group and is a full-service, innovative agency that represents exciting new products from small businesses, entrepreneurs, and individual inventors.
Ad-Gen has all of the tools that its clients need to stay ahead and grow in this fast-paced world, including online marketing, advertising, branding, prototyping, public relations, and more. Under the leadership of Neil Montgomery, who is a successful inventor and entrepreneur, Ad-Gen has extensive industry relationships - developed over many years - that allows it to present newly patented or patent pending products to industry insiders. http://www.Ad-Gen.com
###