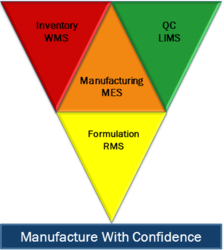 This video helps to answer the question of what a chemical management system does, and how it brings value to every manufacturer who uses this type of technology
Fairfield, NJ (PRWEB) November 13, 2012
Valdata Systems, the company behind the popular "CMS" Chemical Management System, has launched a new video overview explaining in detail the function and benefits of Chemical Management Systems.
The video succeeds in answering the most common questions related to chemical management software, including: what this type of system does; how return on investment can be calculated; and how it combines inventory software, manufacturing execution, formulation software and lims to effectively improve productivity and increase bottom line profits.
"One of the most popular questions we get is 'What do you do'? Because this type of system deals with so many areas of manufacturing, it is difficult to explain the complete impact of this type of system in one sentence. This video helps to answer the question of what a chemical management system does, and how it brings value to every manufacturer who uses this type of technology."
Tom Winter, President
The video can be found both on You Tube and on the Valdata Systems website at: http://www.valdatasystems.com/products.html
About Valdata Systems
Headquartered in Fairfield, NJ, Valdata Systems is a premier provider of Chemical Management solutions specifically targeting the Pharmaceutical, Flavor & Fragrance, Nutraceutical and Chemical Manufacturing industries.
For more information on Chemical Management Systems, Inventory Control Systems, Recipe Manager and other products provided by Valdata Systems please visit: http://www.valdatasystems.com