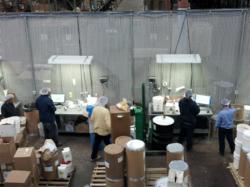 PTP quickly decided on CMS as the system which would provide the most benefit for the organization
Farfield, NJ (PRWEB) December 05, 2012
Valdata Systems has announced the installation of their Chemical Management System (CMS) in the Process Technology and Packaging ("PTP") facility in Olyphant, PA. The system chosen by PTP includes manufacturing execution, formulation, lims and inventory software.
PTP recently expanded its operations by purchasing San-Mar Laboratories and Coughlan Products, both manufacturers of cosmetics. PTP actively investigated its system options in order to effectively manage the merger of the three companies. There were three choices: an inhouse system already being used by PTP, Batch Master which was used by Coughlan, and CMS being used by San-Mar.
After evaluating the choices, PTP quickly decided on CMS as the system which would provide the most benefit for the organization.
The decision was based on a host of benefits including complete traceability from receipt through finished goods, container level inventory control, scale to PC connectivity and enforced resource maintenance. PTP recognized that CMS is the best option to effectively manage the combination of the three companies, identify areas that need improvement, and position them for efficient growth.
About Valdata Systems
Headquartered in Fairfield, NJ, Valdata Systems is a premier provider of Chemical Management solutions specifically targeting the Pharmaceutical, Flavor & Fragrance, Nutraceutical and Chemical Manufacturing industries.
For more information on Chemical Management Systems, Inventory Control Systems, Recipe Manager and other products provided by Valdata Systems please visit: http://www.valdatasystems.com