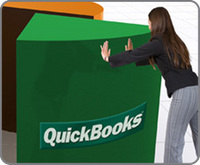 Cut costs, boost productivity and keep customers happy with strong inventory management software.
Provo, UT (PRWEB) April 7, 2010
Strong inventory management is essential to small businesses' survival, according to a report by the U.S. Small Business Administration. Many companies are turning to inventory system software to solve the complex problem of maintaining healthy inventory levels.
According to the SBA's document entitled "Inventory Management," tight inventory control is a key factor in small businesses' success or failure. "Inventory must be well managed in order to maximize profits. In fact, many small businesses cannot absorb the types of losses arising from poor inventory management."
To remain competitive, many small-business owners think they only need to use QuickBooks, which is the most popular accounting software. However, QuickBooks lacks the necessary inventory management tools companies need as they grow. Luckily, inventory system software has been developed to fill in QuickBooks' gaps.
Inventory management software can help small businesses improve their profitability and stay in business by taking the guesswork out of inventory planning. Good inventory software keeps business owners informed on all aspects of their inventory, including quantities, sell-by dates and when to reorder more.
Wholesalers, distributors, retailers and manufacturers walk a fine line between being overstocked and out of stock on products and parts. By combining QuickBooks and inventory management software, they can know how much inventory they need, where it is and how much it costs to maintain it. Having an integrated QuickBooks inventory management system can save time and money by automatically keeping inventory levels balanced.
Fishbowl Inventory is the No. 1-requested QuickBooks add-on. It fully integrates with QuickBooks' software, so companies can keep using the accounting software and add new services to it. Fishbowl's inventory system software is constantly being updated to add new functionality, such as managing products in multiple warehouses, scanning barcodes to immediately update the inventory database, and using Point of Sale software.
To learn more about Fishbowl Inventory and to sign up for a 14-day free trial, visit the following link:
###