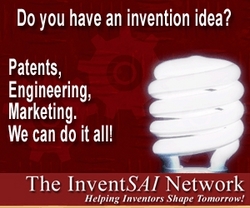 Canonsburg, PA (Vocus) December 1, 2009
The InventSAI Network and Montgomery IP Associates are pleased to announce that three of their clients have just received patents. Patent work was done by Montgomery Patent and Design and they are now working with Ad-Gen on the commercialization of their inventions.
Inventor Bill Hafdal of Alexandria, MN, has developed a combined divot repair tool/ball marker with a disposable pad attached to clean the golf ball, while on the green or on the tee box. (Patent D603,925) The Clip-On Golf Ball Cleaner functions as a common divot repair tool/ball marker as well as a convenient golf ball cleaner, with clip for attachment. The clip presents a circular area that is covered with one half of a hook-and-loop fastening system such as Velcro®. The other half of the fastening system is provided on the rear of a disposable cloth pad used for cleaning golf balls. The pad can be moistened with water before being applied to the clip, and will retain water for a period of time equal to an 18-hole round of golf. The cleaning pads are easily removable, replaceable, and are even great for advertising and logo placement.
Inventor Richard Todd Bender of Thousand Oaks, CA has developed a note pad holder that attaches to a retractable tape measure for making notations anywhere and anytime. (Patent D602,792) Many people will try to remember one or two numbers to save steps while working, but such numbers quickly become muddled during long days or while working on complex tasks. The development of the Notepad Holder for Tape Measure fulfills this need. This clever innovation features a plastic frame design that holds multiple sheets of plain or "Post-It" Pads with pressure sensitive adhesive. This special adhesive allows the paper to attach to just about any tool, which is ideal for construction workers. The use of the Notepad Holder for Tape Measure provides a handy and convenient location for the placement of written notes and reminders in a manner that is quick, easy, and effective.
Inventor Christopher Swanston of Magnolia, DE has developed a protective window and side mirror cover that aids in the elimination of overnight ice and snow on motor vehicles. (Patents D600,189, D602,419 & D602,840) The Exterior Automobile Protective Cover is made with a durable, waterproof material which is secured with sewn-in magnets or hook and loop fastening strips. Its soft cloth backing makes it easy to cover and remove. The use of the Exterior Automobile Protective Cover allows drivers in cold weather climates to be assured of a clean windshield at all times without the normal mess and fuss associated with conventional ice scrapers in a manner that is quick, easy and effective.
Ad-Gen, LLC is now working with all three inventors on the commercialization of their inventions. Contact Ad-Gen for manufacturing/distribution/licensing information 1-800-860-0969.
The InventSAI Network is America's number one full-service agency for small-entity inventors. The InventSAI Network is a research and consulting company that coordinates services with Montgomery IP Associates' other companies.
Montgomery Patent & Design is a firm specializing in intellectual property and engineering services. Montgomery Patent & Design handles patents, copyrights and trademarks while also providing engineering services and virtual prototypes.
Ad-Gen is a full-service boutique ad agency for advertising and business generation needs. Ad-Gen specializes in web site/search engine optimization, imprinted promotional specialty items, and a full array of advertising services for the needs of local, regional and national businesses, entrepreneurs, and the promotion of new and emerging products.
Press Release Contacts:
Lance Sterling
Separate contact information can be found on our companies' web sites at:
http://www.MPandD.com
http://www.InventSAI.com
http://www.Ad-Gen.com
Or you can visit or reach any of our companies at:
Montgomery IP Associates
375 Southpointe Blvd., Suites 100-110
Canonsburg, PA 15317
(724) 745-1912
(724) 745-9113 – fax
Or toll-free:
InventSAI Network
(800) 528-0627
Montgomery Patent & Design
(866) 923-0621
Ad-Gen
(800) 860-0969
###