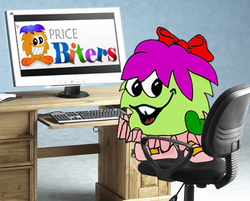 which take the price of a product down $0.30 each time someone views the price of an item.
Phoenix, AZ (PRWEB) October 28, 2009
For years auctions have been won by the highest bidder, but a new website offers the ability to bid down the price. Until now, online auctions followed the typical auction format of bidders bidding up the price until the seller got the amount they wanted or until the auction came to a close. Many times bidders would see large jumps in prices due to other bidders attempt to oust the competition, but PriceBiters.com is offering bidders an opportunity to work together to achieve a target price and actually drive down the final price of the product.
"PriceBiters.com allows bidders to buy "biters" which take the price of a product down $0.30 each time someone views the price of an item." stated Napoleón Beraza, CEO of PriceBiters.com.
Once the bidder sees the price of the item they can continue using "biters" to take the price down even more or they can wait to see if other bidders bite the price down. The catch is that at any time any of the bidders can decide that the price has gone low enough to warrant a buy it now purchase. As long as the supplier has the product, there is no close date on the items you can purchase on PriceBiters.com.
Since launching the site, PriceBiters.com has seen flat screen televisions that retail for $1,999 sell for as low as $874.15 and gift cards worth $50 sell for a fraction of their in-store value, to name a few. The site allows sellers to list just about any product including electronics, baby items, books, furniture, cars and more.
According to Mr. Baraza, "PriceBiters.com was designed to help buyers purchase an item for the lowest possible price while allowing sellers to still get full price for the item they are selling. It benefits both the seller and the buyer and encourages sellers to list items that they would hesitate to list on sites where listing fees and final sale price fees would greatly depreciate their earnings."
PriceBiters.com also offers a social network where users can discuss the site and share comments as well as share photos, videos and more.
For more information visit PriceBiters.com
###