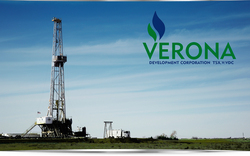 New York, NY (PRWEB) May 6, 2008
Verona Development Corp. has announced that their performance for oil production has dramatically increased in the past months and their oil production will soon reach 400 barrels per day by August this year according to TSX Venture Exchange.
Verona Development Corp. is a Toronto Venture Exchange (TSX.V : VDC) and a Frankfurt Stock Exchange (FSE: V5D) listed micro-cap company focused on creating shareholder value through acquisition and ongoing exploration and development of energy based investments.
Verona Corp Projects Outline:

North American OIL Production (currently in oil production of 200 barrels of oil per day ("BOE/d")
Acquired in April 2005 and workovers, production upgrades and infills commenced immediately.
Production has increased from 65 bbl/d (Apr '05) to 109 bbl/day (June '07) to 200 bbl/day (April '08)
Chinese Joint Ventures
Global Acquisition Opportunies
Some of the Highlights

Acquired in April 2005 and workovers, production upgrades and infills commenced immediately - production has increased from 65 bbl/d (Apr '05) to 109 bbl/day (June '07)
Currently in production on 200 bbl/day and keep on increasing
Average interest of 60% in 1,860 acres
16 producing, 9 suspended, 4 abandoned and 3 water injectors Production mainly from Frobisher Alida beds, however on western acreage potential exists within the upper Frobisher and the underlying Kisbey sand 3D seismic has successfully identified additional well locations with numerous development wells based on success
Oil and gas exploration and production company with a proven track record of successful growth 99% of current production in light to medium grade crude oil
High working interests and most projects operated
Significant prospective acreage with associated drilling potential
Further growth planned through costs savings, further development of existing projects, and acquisitions of additional projects
Average sales volumes (per producing day) in June of 235 bbl/d
Operating cost savings have been identified and acted upon in July 2007 resulting in a reduction from an average or $13.98 per barrel (Jan-May 2007) to $9.03 per barrel in June 2007
About Chinese Joint Ventures
Also Known as 'Shiloubei North Coal Block' & 'Zhengzhou Coal Block'
Shiloubei North Coal Block

1,015 km2 located in the Hedong Basin, east of the Yellow river in western Shanxi Province
60/40 JV production sharing agreement with CUCBM (China United Coalbed Methane Corp Inc)
Recent JV with Shell China Exploration and Production Company Limited, a subsidiary of Royal Dutch Shell (Shell), where by Shell will acquire 55% for the following:
Shell will take over from Verona as operator in respect of CBM operations on the Shiloubei property
Shell will be responsible for 100%of future exploration costs in respect of the Shiloubei project
Shell will pay US$1,370,000 to Verona to reimburse Verona for its past costs incurred to meet exploration requirements under the PSC
Development costs relating to the Shiloubei property will be paid in proportion to the respective interests of Verona and Shell
They recommend their readers check out the company's website and its recent news release and call direct for a full complimentary company investor package at toll free 1-866-282-8398 or online at http://www.veronacorp.com.
The TSX Venture Exchange has not reviewed and does not accept responsibility for the adequacy or accuracy of this release. This news release may contain forward-looking statements including but not limited to comments regarding the timing and content of upcoming work programs, geological interpretations, receipt of property titles, potential mineral recovery processes, etc. Forward-looking statements address future events and conditions and therefore, involve inherent risks and uncertainties. Actual results may differ materially from those currently anticipated in such statements.
###