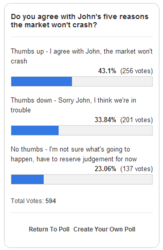 I have a strong opinion on where the stock market is headed, and it's not lower
Bethesda, MD (PRWEB) July 25, 2012
In a recent poll of almost 600 traders conducted by stock market education firm Invested Central, the only clear result was that people remain uncertain about where the market is headed. The poll was included in an article published by Invested Central CEO John Hopkins, where he laid out five reasons he believes the stock market will not crash again anytime soon.
"I have a strong opinion on where the stock market is headed, and it's not lower", says Hopkins, a 30 year veteran of the financial industry. "There are a lot of forces out there betting against the market but for all the wrong reasons. What people are forgetting is that the market has been under pressure for a long time and has actually held up quite well under the circumstances."
The five reasons the stock market won't crash that Hopkins laid out in his article are:
1-Stocks currently offer the best opportunity for profits
2-The Market has already absorbed most of the bad news out there
3-Federal Reserve Chairman Ben Bernanke wants to keep his job
4-The United States will always be a safe haven
5-We are unlikely to see a repeat of 2008/2009 so soon
Over 43% of the poll's 595 respondents agreed with Hopkins, but 34% of them don't think things are quite as rosy, and 23% decided to withhold judgement at this time."
"The results of the poll don't really surprise me given how choppy the market has been lately", said Hopkins. "In reading the comments that readers left, there were many good arguments on both sides of the aisle. Still, the largest percentage of respondents agreed with me that the market's not going to crash, and that's encouraging, given that these are seasoned traders."
Full results and reader comments are available on the Invested Central website.
About Invested Central - Invested Central provides education and stock market guidance to individuals who have taken trading into their own hands. They provide pertinent information to their members during the trading day, including market updates, stock ideas, and conduct live member only chats while the market is open to help enhance trading success. Invested Central is in their eighth year of business and continues to serve members who have been part of the Invested Central community since its inception. You can learn more about Invested Central by visiting their website at http://www.investedcentral.com.