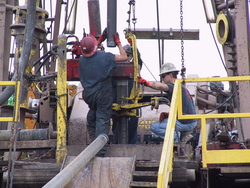 Reaching a million barrels marked our entry into a new phase of operations. We're ready to capitalize on market trends while making a significant contribution to domestic energy production
Hurst, TX (PRWEB) May 20, 2008
EnerMax, a Texas-based oil and gas exploration company, announced today that it has reached a major milestone, hitting the 1 million barrel mark in barrels of oil (BO) and barrels of oil equivalent (BOE) produced. Using advanced recovery techniques and effective resource management, EnerMax has increased the performance of its holdings to 1,100 BOE in daily production, with cumulative production now approximately 1,055,000 BOE.
The rapidly growing company, which marked its 7 year anniversary last month, expects production to rise by 200% over the next 12 months. "The supply squeeze we're seeing in the market right now is a surprise to many people, but we've been increasing our investments in new oil projects in terms of acreage, seismic acquisition and prospect generation over the past several years. We're ready," said Bret Boteler, founder and president of EnerMax. "Many companies are just beginning to react to market signals. They're running to catch up and get in the game. We've already laid the groundwork to rapidly grow our company without compromising the quality of our performance."
"Reaching a million barrels marked our entry into a new phase of operations. We're ready to capitalize on market trends while making a significant contribution to domestic energy production," he added.
Current activities are focused on utilizing two recently developed proprietary filtering processes to boost results in the Permian Basin - an area that accounts for approximately 20% of all U.S. production - and central west Texas. To date, EnerMax's most prominent filtering process has resulted in an 80 percent success rate in locating commercially productive oil and gas reservoirs. Roughly 13,000 acres held by EnerMax are scheduled for exploration and development in the next 4 years.
About EnerMax:
EnerMax, Inc. is a petroleum exploration company that has been aggressively pursuing technology driven oil and gas projects since 2001. Known for it's strategic and efficient operations, EnerMax has recently been featured by Norman Schwarzkopf's "World Business Review," Platinum Television Group's "Pulse on America," and "U.S. Business Review," a national publication.
For more information visit http://www.enermaxinc.com.
###