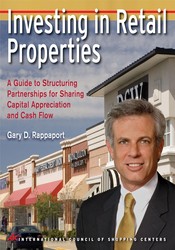 If you want to learn about structuring partnerships for shopping centers, this very personal approach from a 25-year professional in shopping center development is a must read. -- James E. Maurin, SCSM, Chairman, Stirling Properties LLC
New York, NY (PRWEB) March 9, 2011
From start to finish, this volume educates professionals at every stage of their careers on how to build commercial real estate portfolios and succeed, while running an operation built on the foundations of ethics, integrity and professionalism. This guide also gives potential investors a rare glimpse of the risks and rewards involved in equity ownership of commercial properties focused on retail.
Providing expert guidance delivered in a conversational and engaging style, author Gary D. Rappaport also offers readers a glossary of key terms, dozens of financial schedules and four detailed case studies that illustrate ground-up development, land acquisition and new development; acquisition of an existing shopping center; asset preservation; asset appreciation; and the differences in working with individual investors versus institutional investors.
This eBook is an essential tool for answering questions such as:

How easy is it to raise equity for an existing center?
What properties have the best hidden potential for growth?
What are the advantages to investing in grocery-anchored centers?
How can technology be applied to create financial projections?
What is the right partnership structure and proper legal entity?
How can cash flow and capital appreciation be shared between the developer and his or her investment partners?
What are the risks versus the rewards of direct real estate investing?
What are the essential qualities of a successful real estate developer?
The author, Gary D. Rappaport, is a past ICSC chairman and president and chief executive officer of The Rappaport Companies, a retail real estate company he founded in 1984. Based in McLean, Virginia, The Rappaport Companies provide leasing, tenant representation, management and development services for approximately 13 million square feet, one million of which is planned for development in 2012 and 2013. His company's portfolio includes more than 45 shopping centers and ground floor retail in some 100 mixed-use properties located throughout the Greater Washington, D.C. metropolitan area.
Ordering information:
Visit http://bit.ly/InvestingInRetailProperties or call 301-362-6900 to order an eBook copy of Investing in Retail Properties: A Guide to Structuring Partnerships for Sharing Capital Appreciation and Cash Flow. The cost for this publication is $24.95 for members and $34.95 for nonmembers, per download.
Bundle ID Codes:
•For Amazon Kindle: Bundle ID: E264A
•For Barnes & Noble Nook, Sony Reader and Borders Kobo: Bundle ID: E264B
•For Apple iPad: Bundle ID: E264C
About ICSC:
Founded in 1957, ICSC is the premier global trade association of the shopping center industry. Its more than 55,000 members in over 90 countries include shopping center owners, developers, managers, marketing specialists, investors, retailers and brokers, as well as academics and public officials. As the global industry trade association, ICSC links with more than 25 national and regional shopping center councils throughout the world. For more information, visit http://www.icsc.org.
###