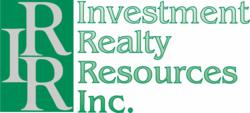 The services, resources, and tools we provide are varied and complex. For a great number of investors that stand to profit from what we offer.
Middletown, Ohio (PRWEB) November 14, 2011
Investment Realty Resources, Inc., a nationally operating commercial real estate investment group and brokerage headquartered in Middletown, Ohio, is announcing the revamping of its Web site to enhance content, relevance, and friendliness of use. The site's new and returning visitors can expect to find even more sources of information and helpful links. For example, there are extended sections on tenant representation, sample reports, and tools and support offered. Investment Realty Resources is recognized as a premier provider of investment property analysis; it's also known for proficient representation of real estate buyers and sellers. The general overhaul culminated last month though the company's leadership is adamant on the need for continuous improvement in all aspects of its endeavors, be that break even analysis or buyer-seller representation.
Company president Juan Muzquiz shared the following comments about Investment Realty Resources' online changes: "The services, resources, and tools we provide are varied and complex. For a great number of investors that stand to profit from what we offer, that complexity, that intricate maze of data and factors we know to analyze, can prove to be a world they are unfamiliar with and a major hurdle. This is especially common among investors that are just starting out or don't have the expertise in-house. In order to change this, we seek to present the nature of our work in a more accessible manner. We also want investors to know that we are ahead of the curve among comparable investment research firms. That's what the online site's improvements are about -- providing a means for people to learn about and recognize the value we add. Our goal is to learn something new or do something better each day, and the Web site is an extension of our 'work in progress' attitude."
In all, it seems the firm has chosen to provide a professionally designed and appealing layout that's chock-full of quality information about its business and the people who staff it. For instance, details of the personnel's specialties and educational backgrounds are comprehensive and easy to find. A news section was also recently incorporated; in it, readers are presented with fresh and timely news items about the world of commercial real estate investments, tax law, and financing. Given the proud descriptions of its multiple services, it's clear the online overhaul was also about the company reaffirming its commitment to its stated goals of creating wealth for clients through rigorous property investment analysis, research, and break even analysis.
About Investment Realty Resources, Inc.
Investment Realty Resources, Inc. is a full-service commercial real estate investment broker and advisory services company. It provides clients with cutting-edge analysis, information, and insight for confident decision-making in the realm of contemporary commercial real estate. More information about the firm can be found by visiting http://www.investmentrealtyresources.com.
# # #