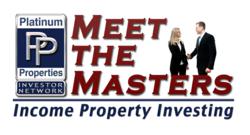 I appreciate that the presentation's goal was to give realistic and helpful information. It wasn't "pie in the sky" and gave me confidence in the ability to become a successful real estate investor. Rating: 10. -Elizabeth Lewis
Irvine, CA (PRWEB) July 20, 2011
Jason Hartman, CEO of Platinum Properties Investor Network, will be hosting his wildly successful "Meet the Masters" event this October in Irvine, CA. "Meet the Masters" is a powerhouse educational event that can revolutionize how property investors think about money and wealth. 
Prospective and seasoned investors alike are invited to attend this supercharged three day event for the early bird price of only $347 ($1497 at the door). Registration and agenda can be found at http://www.JasonHartman.com/meet-the-masters-of-income-property-investing.
"Meet the Masters" could be the only education a property investor will ever need to be on the road to financial freedom. Attendees will immerse themselves in real estate learning led by our panel of speakers from markets around the country – each an expert on the topic on which they're presenting. Our speakers come armed with the latest in shrewd real estate investing techniques and will address such issues as:

The smart way to choose investment properties
How to grab every tax benefit the law allows
How to put together the most creative financing package possible
The hidden power of the 1031 Exchange
How to easily invest in dynamic growth markets outside of California
In three short days, Jason Hartman and his team will hand attendees the keys to successful income property investments and provide every skill an investor will ever need for success: education, analysis, acquisition, management and wealth preservation techniques.
About Jason Hartman
Jason Hartman is the founder and CEO of Platinum Properties Investor Network, The Hartman Media Company, Open Door Auctions and The Jason Hartman Foundation. Starting with very little, Jason Hartman, at the age of 19, embarked on a part-time career in real estate while in college. Through creativity, persistence and hard work, he soon joined the ranks of the top one-percent of Realtors in the U.S. and earned a number of prestigious industry awards.
By 1997, Hartman realized his entrepreneurial dream and purchased an Irvine, CA real estate brokerage firm. He combined his dedication and business talents to become a successful entrepreneur, public speaker, author, and media personality. Hartman's highly sought after educational events, speaking engagements, and his ultra-hot "Creating Wealth" podcast inspire and empower hundreds of thousands of people in 26 countries worldwide.
Hartman's Platinum Properties Investor Network is an innovative firm designed to help people achieve the American dream of financial freedom by purchasing income property in prudent markets nationwide. His Complete Solution for Real Estate Investors™ is a comprehensive system providing real estate investors with education, research, resources and technology to handle all areas of their income property investment needs. For information, call 714-820-4200 or visit Jason Hartman online.
###