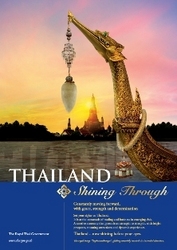 Bangkok, Thailand (PRWEB) October 1, 2009
Thailand's economy is no longer in its downturn and will resume its normal growth in 2010 after the government has been extensively implementing fiscal policies to boost up the economy for the past months. It is expected that the gross domestic product or GDP would grow by 3% to 4% in the final quarter of the year.
Although the Thai economy has faced two crucial challenges which are the global financial tension and domestic political problem, its improvement is still on the right track - the national reconciliation is strongly growing and the overall industrial segments are reviving.
Moreover, the government has designed stimulus packages not only to create jobs but also for energy security, to compete in the global economy and support innovation which includes the plans to spend 1.06 trillion baht on transportation, logistics, health and education projects over the next 3 years to help restore the economy.
The recent report by The World Bank states that Thailand is now ranked 12th in terms of ease of doing business among 183 countries. This is a major testimony that Thailand's economy remains strong and always ready to welcome and work with all private sectors in exploring new opportunities and investing in the country.
Also, the government will assist interested investors with all necessary tools to do their business as well as provide useful information.
Thailand Shining Through is a channel supported by the Advisory Board on Building National Confidence and Image of the Office of the Permanent Secretary, the Office of the Prime Minister in which all updated and reliable information is available.
To get updated news and information, you can visit our Facebook page (http://www.facebook.com/ThaiShiningThru) or follow us on Twitter (http://www.twitter.com/ThaiShiningThru).
# # #