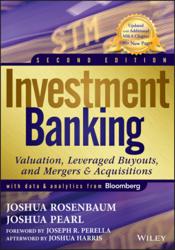 The release of the second edition is particularly timely given the need to stay current with the constantly evolving world of finance.
Hoboken, NJ (PRWEB) May 20, 2013
John Wiley & Sons (NYSE: JWa, JWb) – The global best-selling book on investment banking and valuation used by students, bankers, investors, professors, and finance professionals around the world is out with a new second edition.
In INVESTMENT BANKING: Valuation, Leveraged Buyouts, and Mergers & Acquisitions, Second Edition, (Wiley; June 2013; $95.00; Hardcover and E-book formats; ISBN: 978-1-118-65621-1), authors Joshua Rosenbaum and Joshua Pearl update and expand upon their landmark work that has been helping readers land their dream jobs on Wall Street. The second edition reflects the new reality of the post-financial crisis world, including a timely update on valuation levels and perspectives, LBOs, and M&A. Its release is also accompanied by a new university edition geared towards the classroom, as well as a complementary workbook and focus notes for self-instruction and study.
Per the authors: "We're extremely excited to be working with Wiley once again, and we're thrilled to be partnering with Bloomberg, the world's leading financial data and analytics provider; Intralinks, an industry leading virtual data room provider; and The Corporate Presence, the global leader in the custom design and manufacturing of deal toys."
The release of the second edition is particularly timely given the need to stay current with the constantly evolving world of finance. A solid technical foundation is an essential tool for success for breaking into, succeeding, and advancing in the fast-paced world of Wall Street. Prior to Rosenbaum and Pearl, however, no one had taken the time and effort to properly codify the lifeblood of the corporate financier's work—namely, valuation. Rosenbaum and Pearl have responded to this need by writing the book that they wish had existed when they were trying to break into Wall Street.
Highly accessible and authoritative, INVESTMENT BANKING focuses on the primary valuation methodologies currently used on Wall Street—comparable companies, precedent transactions, DCF, and LBO analysis—as well as M&A analysis. Using a step-by-step how-to approach for each methodology, the authors build a chronological knowledge base and define key terms, financial concepts, and processes throughout the book.
Here is what's new for the second edition:

A brand new, 65-page chapter on buy-side M&A
Fully revised chapters complete with new Bloomberg analytics and data
Best practices for building a data room, provided by Intralinks
Completely updated LBO chapter with new content and charts
New afterword by Joshua Harris, Co-Founder of Apollo Global Management
New ancillary products include: 1) four revised valuation models and one entirely new M&A model, 2) Investment Banking Workbook, 3) Investment Banking Focus Notes, and 4) a full suite of instructor resources (presentations, case studies, test bank, and videos)
About the Authors:
JOSHUA ROSENBAUM is a Managing Director at UBS Investment Bank in the Global Industrial Group. He advises on, structures, and originates M&A, corporate finance, and capital markets transactions. Previously, he worked at the International Finance Corporation, the direct investment division of the World Bank. He received his AB from Harvard and his MBA with Baker Scholar honors from Harvard Business School.
JOSHUA PEARL is an investment analyst at Brahman Capital Corp. Previously, he structured and executed leveraged loan and high yield bond financings, as well as leveraged buyouts and restructurings as a Director at UBS Investment Bank in Leveraged Finance. Prior to UBS, he worked at Moelis & Company and Deutsche Bank. He received his BS in Business from Indiana University's Kelley School of Business.
###
From the Foreword
"Rosenbaum and Pearl succeed in providing a systematic approach to addressing a critical issue in any M&A, IPO, or investment situation—namely, how much is a business or transaction worth. They also put forth the framework for helping approach more nuanced questions such as how much to pay for the business and how to get the deal done. Due to the lack of a comprehensive written reference material on valuation, the fundamentals and subtlety of the trade are often passed on orally from banker-to-banker on a case-by-case basis. In codifying the art and science of investment banking, the authors convert this oral history into an accessible framework by bridging the theoretical to the practical with user-friendly, step-by-step approaches to performing primary valuation methodologies."
—Joseph R. Perella, Chairman and CEO, Perella Weinberg Partners
From the Afterword
I have personally been involved in the successful execution of hundreds of M&A and LBO transactions over the past 25 years and I recommend this book to advisors, financiers, practitioners, and anyone else interested in investment transactions. Rosenbaum and Pearl have created a comprehensive, yet highly accessible, written guide to the core skills of the successful investment professional, with a particular emphasis on valuation analysis.
—Josh Harris, Co-Founder and Managing Partner Apollo Global Management, LLC
Testimonials
"This book will surely become an indispensable guide to the art of buyout and M&A valuation, for the experienced investment practitioner as well as for the non-professional seeking to learn the mysteries of valuation."
—David M. Rubenstein, Co-Founder and Managing Director, The Carlyle Group
"Investment Banking provides a highly practical and relevant guide to the valuation analysis at the core of investment banking, private equity, and corporate finance. Mastery of these essential skills is fundamental for any role in transaction-related finance. This book will become a fixture on every finance professional's bookshelf."
—Thomas H. Lee, President, Lee Equity Partners, LLC
Founder, Thomas H. Lee Capital Management, LLC
"The two Joshes present corporate finance in a broad, yet detailed framework for understanding valuation, balance sheets, and business combinations. As such, their book is an essential resource for understanding complex businesses and capital structures whether you are on the buy-side or sell-side."
—Mitchell R. Julis, Co-Chairman and Co-CEO, Canyon Partners, LLC
"As a new generation of students prepare to enter Wall Street, a sound technical foundation is more essential now than ever. Rosenbaum and Pearl have drawn from their broad deal experience and extensive network to create the best valuation and deal guidebook in the world."
—Alan C. "Ace" Greenberg, Vice Chairman Emeritus, JP Morgan Chase & Co.
Former CEO ('78-'93) and Chairman of the Board ('85-'01), Bear Stearns
Author, The Rise and Fall of Bear Stearns and Memos from the Chairman
"Investment banking requires a skill set that combines both art and science. While numerous textbooks provide students with the core principles of financial economics, the rich institutional considerations that are essential on Wall Street are not well documented. This book represents an important step in filling this gap."
—Josh Lerner, Jacob H. Schiff Professor of Investment Banking, Harvard Business School
Coauthor, Venture Capital and Private Equity: A Casebook
"Valuation is the key to any transaction. Investment Banking provides specific step-by-step valuation procedures for LBO and M&A transactions, with lots of diagrams and numerical examples."
—Roger G. Ibbotson, Professor in the Practice of Finance, Yale School of Management
Chairman & CIO, Zebra Capital Management, LLC
Founder & Advisor, Ibbotson Associates, a Morningstar Company
"Investment Banking provides fresh insight and perspective to valuation analysis, the basis for every great trade and winning deal on Wall Street. The book is written from the perspective of practitioners, setting it apart from other texts."
—Gregory Zuckerman, Special Writer, The Wall Street Journal
Author, The Greatest Trade Ever