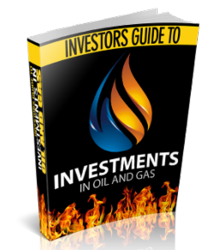 "The price of imported oil in the US doubled between summer 2003 and summer 2005, reducing consumers' purchasing power by more than 1 per cent of gross domestic product." Martin Feldstein
Squamish, BC (PRWEB) December 05, 2011
InvestmentsinOilandGas.com believes it is time for Americans to learn how to invest in oil and gas in order to provide opportunity for economic growth by producing their own oil. They have published the definitive resource,"Investors Guide For Investments in Oil and Gas" to help create and encourage sophisticated investors in the oil and gas industry, believing this untapped group of people has the potential to help the American economy rebound. The expertly written guide provides the in-depth insight into the oil and gas industry that investors need to have in order to make informed investments and is available to download for free through the company's newly launched website at InvestmentsinOilandGas.com.
According to Martin Feldstein, "The price of imported oil in the US doubled between summer 2003 and summer 2005, reducing consumers' purchasing power by more than 1 per cent of gross domestic product." InvestmentsinOilandGas.com believes that sophisticated investors who invest in domestic oil and gas wells have the ability to reduce this country's reliance on foreign oil supplies and reclaim purchasing power. The newly published Investors Guide from InvestmentsinOilandGas.com explains to potential investors what it takes to become an accredited investor, including details about the specific financial requirements they must meet that will allow them to invest in units of ownership in the wells.
By investing in units of ownership in wells through direct participation programs and joint ventures, investors are able to prospect without assuming the total risk of sole ownership; the risk is spread among all the participants. Ownership in the well allows the investor to deduct and depreciate 100% of the expenses related to drilling as well as have access to many other tax advantages even when the well is successfully producing.
InvestmentsinOilandGas.com's new "Investors Guide For Investments In Oil and Gas" explains in detail the methods by which a serious investor can compare opportunities, determine return on investment, and avoid fraudulent offers. For more information about how to obtain a free copy of the new guide, please visit InvestmentsinOilandGas.com.
###