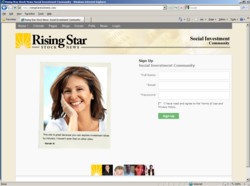 The industry directory is very unique and useful for quickly locating investment ideas.
Las Vegas, NV (PRWEB) July 18, 2012
Rising Star LLC today formally launched its new social media based investment community, RisingStarStockNews.com. The site offers a rich set of features normally associated with general social media sites including discussion threads, blogs, following other members content, and image sharing to name a few. The site's features go far beyond the message boards and forums common in todays popular investor sites.
The site also features a copious current stock news section that can be keyword searched and sorted by various criteria such as most popular and most viewed. The news section is fed by industry favorites such as the Wall Street Journal, CNBC, Forbes, NASDAQ, OTCmarkets and many others. With a such wide array of news sources in one place the searching is very efficient and doesn't result in the clutter returned by general web-wide search engines.
RisingStarStockNews.com has free memberships for individual investors. A special feature allows for efficient invitation of member's friends to join the site. The invitee's can be directly connected from the members' other social media friends in sites such as Facebook and LinkedIn.
Listed public companies and professional investment related companies can upgrade to paid memberships to receive additional features. For example, listed public companies can become part of the site's industry directory where individual investors can quickly find them. A professional investment related company can add informative videos to their customized pages.
The two paid memberships are also eligible to place banner ads on the site for additional fees. RSSN also offers custom advertising and content development services for the paid members.