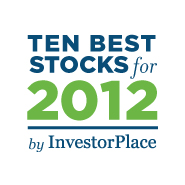 Rockville, MD (PRWEB) October 03, 2012
Shares of Capital One were up 35% year-to-date (YTD) as of the market close on September 30, keeping the stock atop the InvestorPlace.com 10 Best Stocks for 2012 buy list. The buy list is a free resource for individual investors and includes buy-and-hold recommendations from a group of money managers, market experts and financial journalists. Capital One was recommended by Philip van Doorn, banking and finance analyst for TheStreet.com.
In addition to Capital One, five of the other stocks on the buy list ended the first nine months of 2012, as of the market close on September 30, in positive territory:
Turkish telecom provider Turkcell secured the No. 2 spot on the buy list, posting a 29% YTD return. Turkcell was recommended by Charles Sizemore, money manger and editor of The Sizemore Investment Letter. The stock was up 21% in the third quarter alone, the best of all the stocks on the buy list.
Hershey (up 14.8%) held onto the No. 3 spot, barely edging out Microsoft (up 14.6%). Hershey and Microsoft were recommended by award-winning financial journalist Jon Markman and Stockpickr.com founder James Altucher, respectively.
Breaking into the top five with a two-spot gain over the last three months was Alcoa. The stock was up 2% YTD and was recommended by InvestorPlace.com editor Jeff Reeves. Shipping giant FedEx, recommended by CNNMoney editor Paul La Monica, just made it into positive territory, posting a 1% YTD return.
The remaining four stocks on the buy list have all posted a YTD loss. They include: Banco Santander (-1%), Caterpillar (-5%), Arcos Dorados (-25%) and MAKO Surgical (-31%).
For the latest rankings and to follow the 10 Best Stocks for 2012, visit: http://investorplace.com/best-stocks-for-2012/.
About InvestorPlace.com
InvestorPlace.com is a leading financial news and investing site, providing millions of individual investors with access to free stock picks, mutual fund research, market news and sharp, actionable commentary. InvestorPlace Media is privately owned by Avista Capital Partners, with offices in Rockville, Md., just outside Washington, D.C.