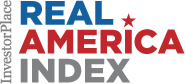 Rockville, Md. (PRWEB) July 19, 2012
InvestorPlace.com has released its 2012-2013 edition of the Real America Index, which includes 36 new component stocks. This unique index was created to provide investors with a better benchmark than the Dow Jones Industrial Average for gauging the U.S. economic climate and stock market.
The Dow was created to measure truly American companies that were influential in American industries, but it has drifted from that goal. While the Dow stocks are headquartered in the United States, some have a majority of sales from international operations and others even employ more workers overseas than in the United States.
What makes the Real America Index unique, and a more accurate alternative to the Dow, is that it is comprised of 51 publicly traded companies headquartered in the 50 U.S. states and the District of Columbia.
Here is how this uniquely American index was created: There is one publicly traded company from each of the 50 U.S. states and the District of Columbia. Collectively, the 51 component stocks tell the tale of the broader U.S. economy. Each company has local impact such as sizeable statewide employment and hometown philanthropy efforts and represents the uniquely American spirit of entrepreneurship and innovation. The index is price-weighted, calculated by adding up component stock prices. While costly stocks like Apple carry more weight using this method, it allows even the smallest companies on the list, like Denny's, to have significant impact.
Some of the featured Real America Index companies making their debut on the 2012-2013 list include:
JPMorgan Chase replaces Goldman Sachs as the component stock for New York. Even after tumbling more than 20% in the wake of its multibillion-dollar trading debacle, JPMorgan was beating the broader market by 2 percentage points almost halfway through the year. "That's key," says Dan Burrows, InvestorPlace.com feature writer and CBS MoneyWatch columnist. "For the market to have any hope of sustained gains, JPMorgan has to catch a break. It's hard to see how we could have a bull market without the financials participating, if not actually leading the way. And it's even tougher to see how financial-sector stocks could succeed without JPMorgan pulling its weight."
Exxon Mobil replaces Southwest Airlines as the component stock for Texas. Early in 2012, Exxon Mobil announced a five-year capital spending plan of a previously unheard of $185 billion, of which $150 will go to new energy exploration around the world. This shows Exxon is in it for the long haul. "The company just seems to be built that way," says InvestorPlace.com Managing Editor Mike Mercurio. "Consider that current CEO Rex Tillerson originally joined Exxon in 1975 as an engineer long before entering the executive ranks. Another sign of corporate steadfastness: Exxon is one of four remaining U.S. companies whose corporate debt gets a top AAA rating from Standard & Poor's."
General Motors replaces Ford as the component stock for Michigan. Since filing for bankruptcy and taking a $50 billion federal bailout in 2009, GM has restructured its operations and gotten back to creating high-quality cars. The company now does about $150 billion in revenues, good for total earnings of about $9 billion in the most recent fiscal year. And with tens of billions in cash and marketable securities, there's quite a strong buffer in the event of another recession.
Explore the feature, which includes an in-depth write-up of each component stock and an interactive map showing short- and long-term performance, at: http://www.investorplace.com/real-america-index/.
About InvestorPlace.com
InvestorPlace.com is a leading financial news and investing site, providing millions of individual investors with access to free stock picks, mutual fund research, market news and sharp, actionable commentary. InvestorPlace Media is privately owned by Avista Capital Partners, with offices in Rockville, Md., just outside Washington, D.C.