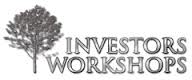 Now anyone with an internet connection can learn from the best and brightest in the [real estate] business.
Costa Mesa, CA (PRWEB) June 25, 2013
Angel Bronsgeest and Shawn Watkins, co-founders of Investors Workshops, a top-rated real estate investment networking group located in Orange County, California, recently announced a special offer for anyone interested in learning more about real estate investing. Investors Workshops will be offering two years of real estate investing audio workshops for free, including sessions with residential real estate investment experts and other industry insiders. This is the first time Investors Workshops has made its real estate investing workshops available to the general public.
"This is all part of our 10-year anniversary celebration," says co-founder Shawn Watkins. "We have such an active and engaged membership and this is a little way of us saying thank you for the past 10 years and get ready for what we have planned next."
According to Shawn Watkins, the economic recovery has reignited interest in real estate investing in California, which was hit particularly hard during the downturn. Prices of existing homes in the United States rose 12 percent in March from the same period last year, according to the National Association of Realtors, as the real estate market continues to rebound from the recession.
"We regularly invite top investors, real estate experts and property management gurus from all around the country to speak to our members. Now anyone with an internet connection can learn from the best and brightest in the business," says Angel Bronsgeest.
About Investors Workshops
Investors Workshops offers a variety of real estate educational seminars and networking events designed to help real estate investors succeed in any market. Investors Workshops provides networking opportunities and up-to-date education for people who want to profit from buying homes or investment properties. Each month, nationally recognized real estate investing trainers hold seminars at Investors Workshops and events are attended by real estate professionals, investors, landlords, property managers, realtors, contractors, wholesalers, rehabbers, and the general public.