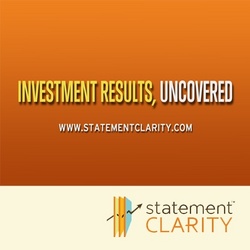 "Confusing brokerage statements have made it impossible for investors to see the results they are paying for." - Robert Wilson
Dallas, Texas (PRWEB) July 26, 2010
Individual investors looking for a way to better communicate and have more informed discussions with a financial advisor now have a new resource with the launch of Statement Clarity™, announced today by Certified Investment Management Consultant Robert Wilson. Statement Clarity™ is an independent research firm that provides the critical data missing from most investors' brokerage statements.
Despite recent efforts by Congress, there still exists a major gap between investor demand for transparency and the willingness of most major brokerage firms to provide clear reporting. According to Mr. Wilson, "financial reform missed what may be the largest transparency issue facing individual investors. Millions of investors are paying for investment management services, the results of which are not being clearly reported."
This market opinion was confirmed in a recent report by Dalbar, a leading third-party evaluator of the financial services industry. Dalbar's Investor Statement Preferences study evaluates investor opinions regarding leading brokerage statements. Those polled said that overall Rate of Return was the most important statement element that could be displayed. Despite this clear demand, more than 83% of brokerage statements evaluated lacked any type of Rate of Return disclosure.
Kathleen Whalen, a Managing Director at Dalbar, says that "…it is clear that investors want to know what financial benefits they receive in the form of returns and what these benefits are costing them." Millions of brokerage customers are paying for Rate of Return, a financial services product that many have never seen. Statement Clarity™ provides an ultra-simple solution for these investors.
Using Global Investment Performance Standards (GIPS®), each Statement Clarity report consists of a one-page analysis that is made to be relevant and easy to understand for any level investor. The report format highlights overall Rate of Return and gives Statement Clarity™ customers the ability to have more informed discussions with their financial advisors.
The cost of an account analysis varies from $200 and $400 depending on the number of statements that must be analyzed. For most investment accounts, the analysis cost is small compared to the costs that can be incurred if underperforming portfolio strategies are left unchecked. Reports can be ordered at the company's website http://www.statementclarity.com or by calling (800) 617-9880.
Over an 18-year financial consulting career, Robert Wilson worked for some of the largest brokerage firms in the United States. As a Certified Investment Management Consultant, Mr. Wilson has analyzed thousands of pages of customer statements. The Statement Clarity™ report was born out of his quest for "the most insightful and easy-to-read accounting of investments results available".
Investment Management Consultants Association is the owner of the certification mark "CIMC®," the service marks "Certified Investment Management Consultant℠," "Investment Management Consultants Association℠," and "IMCA®." Use of CIMC® or Certified Investment Management Consultant℠ signifies that the user has successfully completed IMCA's initial and ongoing credentialing requirement for investment management consultants.
The Global Investment Performance Standards (GIPS®) is a set of standardized, industry-wide ethical principles that provide investment firms with guidance on how to calculate and report their investment results to prospective clients.
Investors who want to better communicate with a financial advisor or those looking for more information about Statement Clarity can visit http://www.statementclarity.com.
Media Advisory: Interviews available on request
Contact:
Kinsey Wood
Statement Clarity
Phone: (800) 617-9880
# # #