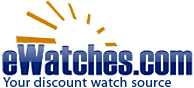 On Monday we will be pricing our Seiko watches with one goal in mind: to move them and make way for Spring's new stock. There will be hundreds of best-selling styles on sale, making the final week of March an opportunity for big savings at eWatches.
Hollywood, Florida (PRWEB) March 27, 2012
eWatches, the number one online retailer of men's watches and women's watches, is getting ready to roll out Springs' new collections of discount designer watches with final markdowns on the top-selling Seiko collection of watches for men and women.
Clearance watches, top sellers and new arrivals are all on sale at up to 90% off Seiko's recommended retail price (RRP) at eWatches.com. Not a second ticks by that there is not a great deal going on at eWatches. The one-day Seiko Sales Event will run for 24 hours on Monday, March 26th. The sale ends at midnight.
eWatches has priced Seiko watches in a bid to move their current inventory, with prices now starting at 77% off the RRP for the top discount designer watches brand. Over 200 styles of Seiko watches for men and women are on sale including men's Automatic Gold-Plated watches, 5 Sports Automatic Stainless Steel watches, mens Quartz Chronograph and women's Diamonds Quartz Stainless Steep with Mother of Pearl timepieces. It's true, Seiko watches are always a fashionable addition to any wardrobe, whilst they are designed to tell time with precision and elegance.
Furthermore, The Seiko extravaganza will be followed by the Invicta Watches Savings Event on Tuesday, March 27th. This sale promises to be an exciting opportunity for watch lovers as eWatches has almost 400 diverse Invicta styles of watches for men and women, including the Invicta Pro, Invicta Diver watch and the Invicta Subaqua watch. The large, varied selection also includes I by Invicta. The sale begins Tuesday, March 27th 2012 at midnight. Prices will start at as low as 75% off RRP. Every Invicta watch is brand new, never worn, with original factory parts and 100% authentic guaranteed.
As eWatches wraps up March with great savings and rolls into spring with even more, several discount designer watches are on sale. The discount designer watches retailer carries a variety of watch brands such as Bulova, Stuhrling, Lucien Piccard, Glam Rock and more. All of these brands will be marked down in the Springs Savings event.
It's apparent why eWatches' expansive inventory of the latest trends and discount designer brands makes for a top destination in watches for men and women.
About eWatches
eWatches.com is an award-winning website that has been selling watches to tens of thousands of satisfied customers since 2003. In both 2007 and 2008, Inc. Magazine selected eWatches.com as one of America's 500 Fastest Growing Companies in its annual Inc. 500 list. eWatches gives customers a superior shopping experience with:

FREE Shipping on all domestic orders
100% Satisfaction Guarantee
Low Price Guarantee
30 Day Money Back Guarantee
To get the latest buzz and inside scoop, follow eWatches on Facebook and Twitter at 'ewatchescom'.