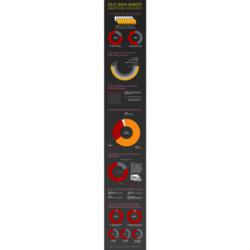 For brands, mobile can be a great opportunity worth investigating... When I need to compare ten websites, I will probably remember the one that is mobile optimized
Napa, CA (PRWEB) July 31, 2012
Napa wine industry shows a 11% movement towards mobile device optimization however leaves a lot of room for growth, according to new research presented by Invictus Marketing, a Napa based interactive marketing agency.
A copy of the published research data shown visually through an infograph has been made public online at http://tinyurl.com/2012-wine-smph.
The research shows over 50% of US mobile phone subscribers have a smartphone yet there remains a clear disconnect between smartphone users wishing to learn about the winery and the winery itself.
"The number one action smartphone users take after looking up local information is to call the business" says Kelvin Wong of Invictus Marketing, "But in our survey, we saw that only 56.8% of Napa winery websites had clickable phone numbers. This begins to outline some of the clear disconnects we have observed."
"For brands, mobile can be a great opportunity worth investigating. I know that for myself, when I am researching local information, I tend to favor businesses with a mobile optimized website. To me, a mobile optimized website creates a faster way for me to make a decision and also creates a differentiated experience. When I need to compare ten websites, I will probably remember the one that is mobile optimized" says Prashant Patel of Invictus Marketing.
The report also finds a small group of Napa wineries utilizing responsive web design however only 22.2% of those actually had fully functional websites across both iOS and Android smartphones. Many of the websites surveyed which utilize responsive web design only functioned for iOS devices and left a unusable experience for Android smartphone users. As a result, these websites were placed into the "Unusable responsive web design" group of the report.
The 2012 Napa Winery Smartphone User Survey was conducted in July 2012 with 537 wineries listed on the Napa Valley Vintners trade association website.
Founded in 2008, Invictus Marketing LLC is a Napa web design and interactive marketing agency specializing in executing brand development within the consumer discretionary sector.
For more information about Invictus Marketing, please visit http://www.InvictusMarketing.com or call (866) 948-4815.