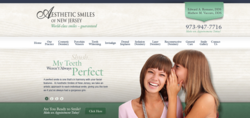 Morristwon, NJ (PRWEB) April 26, 2011
At their New Jersey cosmetic dentistry practice, Edward Romano, DDS and Matthew Vaccaro, DDS are announcing a special on clear braces. Aesthetic Smiles of New Jersey has been serving the cosmetic dentistry needs of Morristown, NJ and surrounding North New Jersey towns for over 20 years, and are offering significant savings in their clear braces special as a way to say thanks to their community. Both Dr. Romano and Dr. Vaccaro are certified providers of Invisalign in Morris County, which they say is an effective and comfortable way to straighten teeth discretely.
Dr. Romano says Invisalign® is a solution for minor orthodontic concerns, such as crookedness, crowding, or gaps between teeth. With a system of clear plastic trays, Dr. Vaccaro says he and Dr. Romano use advanced computer technology to map each patient's new smile, and then use a series of aligners to gradually adjust the teeth and provide the patient with the smile they have always wanted. The Invisalign® treatment often takes less time than traditional metal braces to achieve effective results, and the removable teeth aligners do not use wires or other metal materials that may break or need adjustment later on.
At Aesthetic Smiles of New Jersey, Dr. Romano and Dr. Vaccaro says the perfect smile is one that is in harmony with each patient's individual facial features. Whether creating that smile involves teeth straightening with Invisalign®, porcelain veneers, or teeth whitening, the dentists say they strive to enhance the natural beauty of each patient by giving them the smile they deserve.
For more information about the Invisalign® special at Aesthetic Smiles of New Jersey that runs through the end of May 2011, or to learn more about how the innovative clear braces work, visit aestheticsmilesofnj.com.
About Dr. Romano
Edward Romano, DDS earned his dental degree from the Georgetown University School of Dentistry. Since then, he has been in private practice in Morristown, NJ. Dr. Romano maintains a rigorous continuing education schedule in aesthetic dentistry because he is committed to providing his patients with the latest dental technology. He is the past President of the New Jersey Chapter of the American Academy of Cosmetic Dentistry, and lectures and teaches nationwide to pass along his knowledge and experience to the incoming class of cosmetic dentists.
About Dr. Vaccaro
Matthew M. Vaccaro, DDS earned his dental degree from the State University of New York. He is currently the attending dentist at Morristown Memorial Hospital, where he instructs residents on all aspects of dentistry. Dr. Vaccaro is a member of the American Academy of Dentistry, the American Dental Association, and the Academy of General Dentistry. He also pursues a full schedule of continuing dental education to remain on the cutting-edge of dental technology.
Aesthetic Smiles of New Jersey is located at 310 Madison Ave. in Morristown, NJ 07960, and can be reached at (973) 947-7716, or found online at http://www.aestheticsmilesofnj.com and the Aesthetic Smiles of New Jersey Facebook page.
###