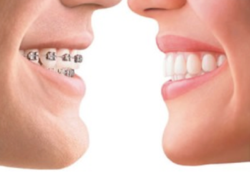 Straight teeth is not just about looking good, it's also about good oral health and Invisalign allows you to have both.
Los Angeles, CA (PRWEB) October 17, 2011
Having straight teeth is not only a health benefit but it can also help with social status and improve the opportunity to land a job according to an LA Times article. More and more adults are inquiring about clear braces, specifically the Invisalign treatment.
Invisalign is a teeth-straightening system that uses a series of clear plastic orthodontic aligners that are made from an impression of a person's teeth. Through computerized technology, a dentist or orthodontist captures a unique mold of the patient and sends it to the lab where they are able to custom make each Invisalign teeth aligner for the patient.
Adult patients who are looking to make enhancements to their appearance with Invisalign need to qualify for the treatment. Generally, qualifying patients include those suffering from crowded and misaligned teeth, improper spacing, as well as those who need correction of minor to moderate bite problems.
According to the American Association of Orthodontists, adult patients make up 1 in 5 of orthodontic patients. Dr. Sally Kashani, a dentist in Hollywood, explains that adult patients often inquire about Invisalign when looking for aesthetic improvements but often overlook the oral health benefits that will save them from tooth loss and money in the future. Dr. Kashani provides patients with free consultations to ensure their candidacy for Invisalign treatment.
"Sure, looking beautiful is great but being healthy is even more important," says Dr. Kashani. "When teeth are crowded or too spaced out, swelling and redness can develop in the gums. Oral infections can rise causing many health problems: tender or bleeding gums, bad breath, bone and gum loss around teeth and possible tooth loss."
Dr. Kashani declares that satisfaction with Invisalign treatment among her current patients is high. Her patients claim they benefit from the trays being inconspicuous, have less complaints about soreness, and unlike traditional brackets, they love the ability to remove them to brush, floss and eat. Another advantage is that Invisalign treatment typically takes less time than traditional braces.
Patients who want to see if they qualify for Invisalign can consult with their doctor or take a self assessment test by visiting: http://www.invisalign.com/Pages/Adult-Self-Assessment-Tool.aspx.
Sally Kashani DDS, Dr. Sally Kashani is a graduate of the University of California Los Angeles as well as UCLA Dental School. After graduating from UCLA Dental School she completed two years of a general practice residency (GPR) at the Veterans Hospital in Sepulveda, CA where she also served as chief resident.
Dr. Kashani has received extensive training in cosmetic, surgical, and implant dentistry, as well as all other areas of restorative and general dentistry. She is a member of the American Dental Association, California Dental Association, and the San Fernando Valley Dental Society.
Her office is located in the Dermix Dental and Medical Spa Center building in Toluca Lake, near Hollywood, CA. The office is open on weekends.
For more information about the office of Sally Kashani DDS, Invisalign and payment options, please visit: http://www.hollywood-dentist.com and make your appointment today.
###