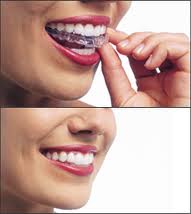 Invisalign is not only a great teeth straightening system for all ages, but it's particularly popular for working adult patients, unlike metal braces they are clear and removable making them far more difficult to detect.
Woodland Hills, CA (PRWEB) August 31, 2012
Dr. Kevah Kanani, a cosmetic dentist in Woodland Hills specializes in providing patients with a complete spectrum of dental care. With solutions ranging from general dentistry, dental implants, and cosmetic dentistry, Dr. Kanani's dentist office in Woodland Hills has the ability to offer patients an exclusive and comprehensive level of care when it comes to oral health and smile make overs. One product specifically, Invisalign tooth straightening system, has made an impact at the clinic. Dr. Kanani is well known for his brilliant smile transformations in Los Angeles County, and he finds Invisalign teeth straightening system to be his patients top choice as far as performance and convenience.
These nearly invisible braces have much to offer while being able to overcome some complications associated with traditional metal braces. Here are some advantages of Invisalign:

Gums and supporting tissues health, almost all other types of teeth strengthening treatments will cause the roots of teeth to shorten due to bone resorption in most patients,
Because of the removable nature of the Invisalign , food can be consumed without the inconvenience of metallic braces.
Since patients are able to remove the Invisalign aligners when eating or drinking, there are no restrictions on foods that could damage the appliances
Unlike with Invisalign, tooth decay happens in up to 50% of patients since traditional braces cannot be removed for eating and cleaning, and because they prevent accurate x-rays from being taken.
Patients get a new set of aligners approximately every two weeks, this causes less force per week and less pain than traditional metal braces do, which are adjusted approximately every six weeks and apply greater force and ultimately cause more pain and discomfort
Invisalign aligners are also claimed to work faster than the traditional braces, a large-scale study of 408 patients wearing traditional braces in Indiana showed that traditional braces took an average of 35.92 months with a maximum of 96 months. On the other hand Invisalign takes between 12–18 months.
A large number of patients with crooked teeth want the effects of braces - straighter teeth - without needing to wear an unsightly metal wire for months at a time. Woodland Hills Cosmetic Dentist Dr. Kanani believes that these individuals in particular will benefit from Invisalign teeth straightening system. Since these braces are made transparent and far less obvious as opposed to metal wire, they are much more popular among adults who want strength teeth with out having to wear metal braces.
Among the classic downsides to wearing metal braces it that they restrict what the individual can eat. This is simply not the case with Invisalign, since they are removable. "For maximum effect, the patient must wear the braces for at least twenty-two hours a day, but even that leaves sufficient time to remove them and indulge in all the foods not available to those wearing traditional braces" proclaims Dr. Kanani. To find out if you are a good candidate for Invisalign, Dr. Kanani is offering a free consultation for any new patient who contacts the office. .
The effectiveness of the plastic used in Invisalign braces is another benefit. It is nearly unbreakable, giving it a clear edge over the wires in metal braces that can occasionally snap, forcing the patient to make an emergency visit to their orthodontist. As anyone who has worn metal braces for any extended time frame will attest, this will be longed-for change.
The Invisalign dentistry is not for everyone. Patients with particularly crooked teeth or other dental conditions will need the additional pull provided by metal braces. For additional information on the benefits and proper use of Invisalign and the wide variety of other quality dental services available contact Nancy at Around the Corner Dental Health Spa at 818-962-1141.
To view the current specials at Around the Corner, patients can frequently visit the practice's website. Dr. Kanani encourages his patients to take advantage of these special offers as they will not last long.
Contact Dr. Kanani at 818-962-1141 and mention Smile101 and take advantage of their Specials such as $26.99 X-ray and exam and the labor day $299 Invisalign, be sure to ask how to get your first regular cleaning complimentary.
818-962-1141
http://woodlandhillsdentalspa.com/
Tusana.com