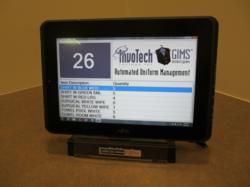 The new cloud architecture and interface fit well with our Fujitsu Frontech solutions. InvoTech is well known and its systems are widely installed throughout the hospitality, casino, and laundry markets.
Los Angeles, CA (PRWEB) May 24, 2012
InvoTech Systems, Inc. announced Fujitsu Frontech North America will showcase the latest GIMS™ Ultra-High Frequency Radio Frequency Identification (UHF-RFID) system at the grand opening of the Fujitsu Solutions Center at its headquarters in Foothill Ranch, California. Fujitsu selected InvoTech because its solutions enable customers to wirelessly scan both uniforms and linens and update all databases remotely and instantly through a new cloud-based architecture that requires no intermediate computing devices.
InvoTech's software systems are used internationally for both uniform and linen tracking utilizing Fujitsu's durable RFID laundry tags. The new wireless cloud interface enhances the GIMS™ solutions and reduces labor costs to users by streamlining the inventory process. InvoTech will demonstrate GIMS™ with UHF-RFID Portable Handheld Readers at HITEC 2012 held June 25 – 28 in the Baltimore Convention Center.
GIMS™ UHF-RFID Handheld Reader instantly processes bulk uniforms, linens, hospital scrubs
Fujitsu will demonstrate at its Solutions Center how the integrated UHF-RFID Portable Handheld Reader with GIMS™ Mobile Software saves time and increases staff productivity in processing uniforms, linens, and hospital scrubs. The portable handheld reader with GIMS™ mobile inventory software communicates remotely to the GIMS™ database via Wi-Fi to wirelessly transmit its information directly to the cloud. The updated information may be instantly shared by many different resources.
GIMS™ protects staff from contaminants in hazardous environments
For hospital use, the GIMS™ UHF-RFID reader protects employees from possible contamination by identifying, counting, and recording exactly which scrubs are in bio-hazard containers without any staff-garment contact. In hotel and casino laundry operations, the GIMS™ Handheld Reader scans and inventories entire storerooms and laundry carts of uniforms and linens wirelessly, then sends real-time updates instantly to the property database. At the Fujitsu Tech Center implementation, GIMS™ operates on Fujitsu's Frontech's NuVola Cloud appliance to demonstrate "anywhere" inventory updates via remote UHF-RFID tracking devices.
Please click here for more information on InvoTech's Uniform, Linen and Laundry inventory tracking systems for efficient operations.
"InvoTech is a forward-looking company and a key Fujitsu technology partner that is continuously developing innovations to streamline customer solutions," said Dan Dalton, director, marketing and new products development for Fujitsu Frontech North America. "The new cloud architecture and interface fit well with our Fujitsu Frontech solutions. InvoTech is well known and its systems are widely installed throughout the hospitality, casino, and laundry markets." Dalton noted that Fujitsu developed the first UHF-RFID tags designed to withstand rigorous commercial laundry processes. Its tags are widely used throughout North America, Europe and Asia.
Jeff Welles, InvoTech vice president, said, "InvoTech is honored to be the only software provider demonstrating Fujitsu's UHF-RFID Laundry Tags at its Solutions Center. Their tags have proven reliable at our GIMS™ installations throughout the US and in our other expanding international markets." InvoTech's leadership position is a direct result of its focus on customer service. It provides clients with professional on-site installation and training that includes personal instruction, classroom seminars, and management training. InvoTech also provides 24-hour customer support and software updates.
Going to HITEC 2012 in Baltimore? Visit Booth 722 to meet the InvoTech team and get personal a demonstration of the GIMS™ UHF-RFID Uniform, Linen, and Laundry systems.
About InvoTech Systems
InvoTech Systems, Inc. – a Microsoft Certified Partner – is a leading provider of high quality, innovative inventory control systems for hotels, casinos, resorts, theme parks, and sports arenas. The company's GIMS™ asset management solutions and tracking systems manage uniforms, linens, and laundries. Its SAMS™ systems manage security and guest services operations. Both GIMS™ and SAMS™ provide ultimate control and accountability, streamline operations, improve quality and loss control, and reduce labor. The GIMS™ ultra high frequency, radio frequency identification (UHF-RFID) system, in particular, fully automates uniform and linen tracking. This allows managers to eliminate labor from cost centers and instead put staff to work enhancing revenues. InvoTech's worldwide roster of more than 500 customers includes MGM Resorts International, Ritz-Carlton Hotels, Hyatt Hotels, Starwood Hotels and Resorts, Hilton Hotels, Universal Studios, and Madison Square Garden. InvoTech Systems is rooted in a culture that emphasizes long-term client relationships, superior customer service, and on-going technology innovation and integration. For more information, please visit http://www.invotech.com.