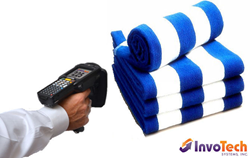 Our wireless Handheld Reader instantly reads, identifies and processes physical inventories of uniforms and linens in carts and on racks.
LOS ANGELES (PRWEB) June 04, 2015
InvoTech Systems will be exhibiting at HITEC, the world's largest hospitality technology show, for its 15th year. InvoTech will showcase its RFID Uniform and Linen Management Systems that increase property profitability. InvoTech will also launch a new RFID Pool Towel Tracking System, which is a module of the InvoTech Linen System. InvoTech is the leading provider of advanced Linen and Uniform Management Systems that integrate the latest RFID technology to increase profitability for hotels, resorts and casino operators. InvoTech is recognized globally for implementing systems and solutions that save companies time, labor and money. Click here for more information on InvoTech's Uniform and Linen Systems.
InvoTech Pool Towel System reduces lost towel expenses
The Pool Towel module automatically records the transaction when towels are issued to hotel guests and the system interfaces with the hotel's property management system to charge the guests when towels are not returned.
HITEC 2015
"HITEC is the perfect place for operators to evaluate how InvoTech's RFID Uniform and Linen Systems can help their companies be more profitable," said Oswald Lares, InvoTech director of sales and marketing. "This is our 15th year exhibiting our products at the show. Several top brands mandate our systems for opening properties and our international client list is much longer this year with installations in 28 countries. This year we are launching our new RFID Pool Towel tracking system at HITEC. Operators who are interested in reducing pool towel losses expenses can visit us at booth 736 to learn more."
"Many properties are upgrading operations with our RFID Portable Handheld Reader with InvoTech Mobile Software," Lares said. "Our wireless Handheld Reader instantly reads, identifies and processes physical inventories of uniforms and linens in carts and on racks. The Reader also saves hours of labor by providing an accurate total article count for large linen storerooms in seconds. Our demo video shows how easy it is to reduce labor in the uniform room."
InvoTech's international clients include Four Seasons Macau; Grand Venetian Macau Resort Hotel; MGM Grand Macau; Hyatt Shanghai, China; Burswood Entertainment Complex, Australia; Sheraton Seoul, Korea; Resorts World Sentosa Singapore; and Palace Resorts, Mexico. North American clients include MGM Resorts International, Ritz Carlton, Hyatt Hotels, Marriott, Hilton Hotels, Loews Hotels, Mandarin Oriental, Universal Studios Florida, Madison Square Garden, MSR-FSR Laundry, Empire State Building, and other leading companies.
About InvoTech Systems
InvoTech Systems, Inc. increases profitability for clients. It is a leading provider of software management and control systems for uniforms and linens, and for laundry and security operations. Served markets include hospitality, healthcare, commercial laundry, and amusement industries worldwide. InvoTech products deliver vital information that establishes ultimate control and total accountability. InvoTech solutions are reliable and easy to use. They streamline operations and improve service levels with reduced labor and operating expenses. InvoTech provides 100% of its system support and product development in-house. The firm's trusted staff averages 10 years of reliable technical experience, knowledge of methodologies, and industry depth. InvoTech is a Microsoft Certified Partner that evolves technology-based solutions regularly based on client- and staff-driven innovations. The company is rooted in a culture that emphasizes long-term client relationships and superior customer service. For more information, please visit http://www.invotech.com.