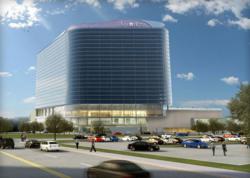 The system will enable us to maximize efficiencies in regard to our hotel uniforms on a daily basis in order to maintain our image and investment.
LOS ANGELES, CA (PRWEB) November 16, 2011
InvoTech Systems, Inc., provider of hotel systems for efficient operations, announced that the new Omni Dallas Hotel has installed InvoTech's GIMS™ ultra-high frequency (UHF) RFID uniform system inventory software. InvoTech is providing the GIMS™ software and all related equipment. Please click here for more information on GIMS™.
The hotel's uniform company installed approximately 6,000 UHF-RFID laundry tags on the uniforms before they were shipped to the property for use. GIMS™ will automatically track the property's custom-designed uniforms from the moment of purchase. The company is also providing onsite installation, training, and 24-hour customer support.
GIMS automatically tracks 6,000 uniforms valued at $150,000
"InvoTech's UHF-RFID tracking system was operational for the November 11, 2011 grand opening of our 1,001-room luxury hotel," said Nils Stolzlechner, General Manager of the Omni Dallas Hotel. "The system will enable us to maximize efficiencies in regard to our hotel uniforms on a daily basis in order to maintain our image and investment."
Automatic tracking preserves uniform investment
"A large part of the respected Omni Hotels & Resorts brand image is its fashionable uniforms," says Jeff Welles, InvoTech vice president. The GIMS™ system includes UHF-RFID laundry tags and UHF-RFID readers and antennas. Laundry tags are fitted in pouches that are sewn into the garments. The UHF-RFID tags are read with no labor as uniforms pass by the specialized antennas. "GIMS™ eliminates the need for labor intensive, single-piece hand counts," says Welles, "as well as the resulting manual errors. The Omni Dallas Hotel will manage its uniform inventory, prevent losses, and control its annual purchases automatically with UHF-RFID." In addition, GIMS™ monitors the aging of the uniform inventory and provides accurate information to forecast uniform purchases.
About InvoTech Systems
InvoTech Systems, Inc. – a Microsoft Certified Partner – is a leading provider of high quality and innovative inventory control systems for hotels, casinos, resorts, theme parks, and sports arenas. The company's GIMS™ asset management solution and tracking systems manage uniforms, linens and laundries, and its SAMS™ systems manage security and guest services operations. Both GIMS™ and SAMS™ provide ultimate control and accountability, streamline operations, improve quality and loss control, and reduce labor. The GIMS™ ultra high frequency, radio frequency identification (UHF-RFID) system, in particular, fully automates uniform and linen tracking, allowing managers to eliminate labor from cost centers and instead put staff to work enhancing revenues. With more than 500 customers worldwide that include MGM Resorts International, Ritz-Carlton Hotels, Hyatt Hotels, Starwood Hotels and Resorts, Hilton Hotels, Universal Studios, and Madison Square Garden, InvoTech Systems is rooted in a culture that emphasizes long-term client relationships, superior customer service, and on-going technology innovation and integration. For more information, please visit http://www.invotech.com.
###