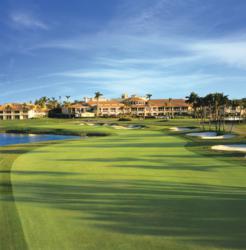 We selected the InvoTech Uniform System because it creates the most efficient uniform process possible while protecting our assets.
LOS ANGELES, CA (PRWEB) June 06, 2013
InvoTech Systems, Inc., the leading provider of solutions that increase profitability for hotels, casinos, laundries, medical centers and related industries announced that Trump National Doral® Miami installed the InvoTech Uniform System to reduce labor and operating expenses. The 693-room resort offers five championship golf courses and plans to have a uniformed staff of 1,400 when it completes its full transformation in Fall 2014.
"We selected the InvoTech Uniform System because it creates the most efficient uniform process possible while protecting our assets," said Charlotte Rosenau, director of rooms for the Trump National Doral® Miami. "The system tracks over 3,000 uniforms worth thousands of dollars and this system allows us to reduce labor and streamline uniform operations."
The Trump Hotel Collection™ purchased Miami's iconic resort in June 2012 and is committed to restoring the resort to its original grandeur and elevating it to one of the greatest resorts in the world. The Resort's famed 'Blue Monster,' Clubhouse, guestrooms and pool are being redesigned for the Resort's new image.
InvoTech Director of Sales Oswald Lares said, "The Trump National Doral® Miami established 100% control of the uniform department operations from day one. The InvoTech Uniform System integrates an electronic employee identification process that records when uniforms are assigned to staff to establish accountability with paperless operations. The system also monitors uniform inventory levels and garment aging to accurately forecast future purchases. The control and information provided by the InvoTech Uniform System will provide extensive cost saving benefits to The Trump National Doral® Miami."
"InvoTech automatically tracks which uniforms are issued to employees and which are at the laundry. This establishes accurate inventorying and accountability for each uniform and reduces lost-uniform expenses," said Ms. Rosenau. "In addition, since the system records uniform cleaning costs, we can generate reports to audit laundry expenses and build effective budgets. I would tell any operator InvoTech is a valuable addition to our operation. The system sells itself."
InvoTech users include MGM Resorts International, Hyatt Hotels, Marriott, Hilton Hotels, Universal Studios Florida, Wynn Resort Las Vegas and Macau, Madison Square Garden, MSR-FSR Laundries, Empire State Building, Loews Hotels, Mandarin Oriental, and other leading companies. InvoTech's international customers include the Venetian Macau Resort Hotel, MGM Grand Macau, Grand Hyatt Shanghai, China, Four Seasons Macau, Burswood Entertainment Complex Australia, Sheraton Seoul Korea, and Resorts World Singapore.
Going to HITEC 2013 in Minneapolis? Visit Booth 434 to meet the InvoTech team and get a personal demonstration of the latest UHF-RFID and mobile Linen, Uniform, and Laundry Systems.
About Trump National Doral® Miami
TRUMP HOTEL COLLECTION™ purchased the iconic Trump National Doral® Miami in June 2012 and will be facilitating a $250 million renovation to restore Doral to its former grandeur. Situated on 650 acres in the middle of Miami, Trump National Doral currently has 693 guestrooms across 10 lodges; five championship golf courses, including the legendary Blue Monster; more than 90,000 square feet of meeting space including a 24,000-square-foot ballroom; a sprawling 48,000-square-foot spa with 33 treatment rooms; highly regarded Mclean Golf School and teaching facilities; six food and beverage outlets; extensive retail options; and a private members' clubhouse. Trump National Doral has been host of the PGA TOUR for over 50 years and home to the World Golf Championships-Cadillac Championships. The property will remain fully operational throughout the renovation, which is expected to conclude in 2014. Reservations can be made at http://www.TRUMPHOTELCOLLECTION.com or by calling (855) TRUMP-00 (878-6700). TRUMP HOTEL COLLECTION is headquartered at Trump Tower, 725 Fifth Avenue, New York, NY 10022. For reservations, call toll-free (800) 71-DORAL (36725) or visit http://www.trumphotelcollection.com/miami. Connect with Trump National Doral on Facebook, Twitter and Pinterest.
About InvoTech Systems
InvoTech Systems, Inc. increases profitability for clients. It is a leading provider of software management and control systems for uniforms and linens, and for laundry and security operations. Served markets include hospitality, healthcare, commercial laundry, and amusement industries worldwide. Its products deliver vital information that establishes ultimate control and total accountability. It streamlines operations and improves service levels – all with reduced labor and operating expenses. InvoTech produces and supports 100% of its system and product development in-house. The firm's trusted staff averages 10 years' of reliable technical experience, knowledge of methodologies and industry depth. InvoTech – a Microsoft Certified Partner – evolves technology-based solutions regularly, based on client- and staff-driven innovations. The company is rooted in a culture that emphasizes long-term client relationships and superior customer service. InvoTech Systems, Inc. is honored to have a 98% client retention rate. For more information, please visit http://www.invotech.com.